Science Gallery Melbourne's new state-of-the-art premises to open
IMG LINK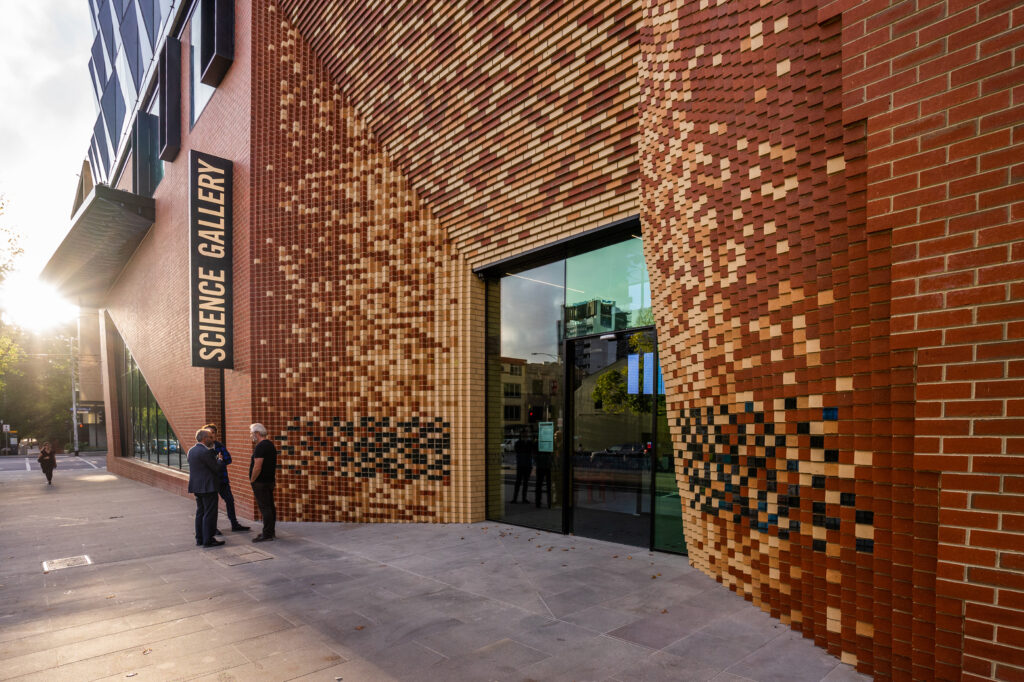 The first and only Australian node in the internationally acclaimed Science Gallery Network, Science Gallery Melbourne offers over 3500-square-metres of exhibition space, a learning centre, a theatre, workshops, laboratories, and social spaces, designed to inspire young adults through art, science and innovation.
Since 2017, Science Gallery Melbourne has created exhibitions and programs in a series of pop-up sites around Melbourne – from a historical gymnasium to the Melbourne School of Design at the University of Melbourne, to an underground carpark, a shipping container, the Maribyrnong and Yarra rivers, city laneways and public gardens.
On July 20, it will launch its own purpose-built gallery on the corner of Grattan and Swanston Streets, a gateway to the University of Melbourne's new Melbourne Connect innovation precinct, and a major new attraction delivering immersive, interactive exhibitions and events focused on the collision of art and science.
The Science Gallery Network embeds galleries in leading Universities around the world, with proven success at engaging 15-25-year-olds in STEM subjects and pathways – the key being the presentation of immersive and experimental exhibitions that blend scientific theory and new technologies with contemporary themes and creativity. The launch of Science Gallery Melbourne comes at a time when approximately 75 per cent of the fastest growing jobs in Australia require Science, Technology, Engineering and Maths (STEM) skills but there is declining interest in STEM at the secondary and tertiary education levels.
Director of Museums and Collections at the University of Melbourne, Rose Hiscock said the launch of the new purpose-built museum is a major milestone. "Science Gallery Melbourne provides a contemporary, playful and welcoming space for young people to explore issues, ideas and the great challenges of our time. As a new home for STEM engagement, we aim to show that anything is possible when science and art come together," Ms Hiscock said.
The inaugural Science Gallery Melbourne exhibition, MENTAL: Head Inside, will reflect a range of different perspectives on mental health. Curated by a team of young people together with leading academics and experts in mental health, the exhibition features over twenty projects from local and international artists and research collaborators, each challenging societal stereotypes surrounding mental health and reflecting different ways of being, surviving and connecting in the world.
Highlights include
Wheel, a vibrantly coloured human-sized hamster-wheel developed in a collaboration between artist Hiromi Tango and Florey Institute of Neuroscience and Mental Health researcher Dr Emma Burrows that explores the effect of colour, playful spaces and exercise on mood, and the influence of positive social reward on our exercise commitment.
Respite Space, a new project by Wemba Wemba and Gunditjmara artist Rosie Kalina, designed for rest and reflection which emphasises the importance of respite in the colony, inviting visitors to consider the impact racism and continued colonisation has on the mental health of Aboriginal people.
In addition, artists Mary Angley and Caithlin O'Loghlen will spend seven days on view in a fake bedroom set up in the Science Gallery windows in Selfcare_4EVA, pursuing the impossible goal of becoming the most famous wellness influencers on the internet.
Science Gallery Melbourne also boasts the world's first digital-brick entrance. Featuring 226 phone-sized and touch-enabled screens located behind glass bricks, the building's façade is an ever-changing canvas for digital data and interactive media.