Indigenous designs presented by Koskela in 'Ngalya' exhibition
IMG LINK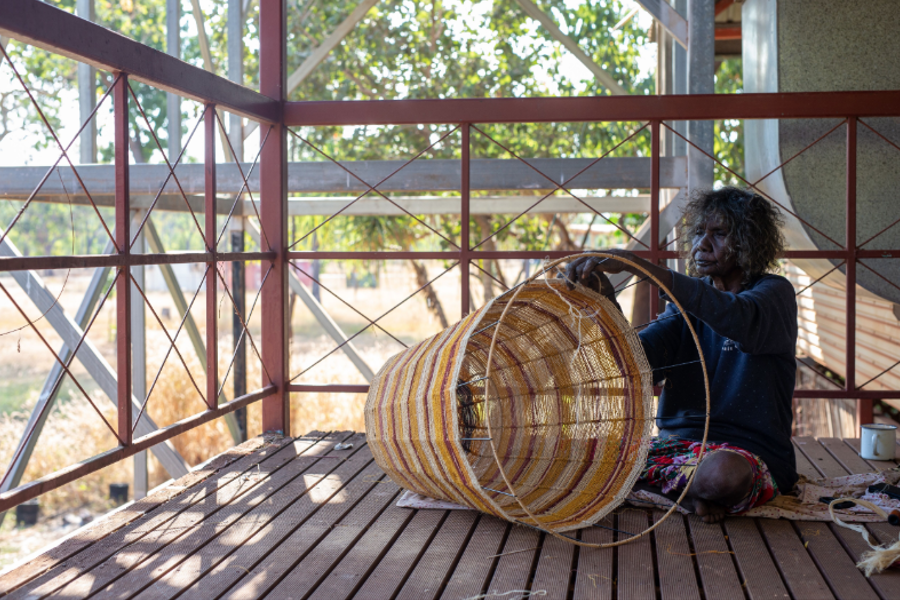 Koskela, one of Australia's leading furniture, design and lifestyle brands, will present Ngalya, celebrating the 10 year anniversary of Koskela's social impact projects working with Australia's First Nation Peoples. Koskela will present an exhibition including a new collection of lighting designs in collaboration with six Aboriginal and Torres Strait Islander art centres from around the country. The Ngalya Collection will be presented at Koskela, Roseberry, from 28 August to 18 September, before travelling to the South Australian School of Art Gallery in Adelaide as part of TARNANTHI 2019, the Art Gallery of South Australia's annual Festival of Contemporary Aboriginal and Torres Strait Islander Art this October.
Co-Founder of Koskela, Sasha Titchkosky said: "Koskela believes that great design can be used to effect social change, and has a firm belief that Australia's unique Indigenous culture is one that needs to be celebrated and acknowledged. We are proud of the many collaborations we have worked on in the past 10 years and excited to present our anniversary collection – Ngalya – highlighting the incredible innovation and contemporary transformations taking place in Indigenous fibre arts and cultures across Australia."
Ngalya is a Dharug word meaning 'both' and the collection sees Koskela collaborate with six art centres including Bula'Bula Arts, Durrmu Arts, Milingimbi Art and Culture, Moa Arts, Ngarrindjeri Weavers, and Tjanpi Desert Weavers. Each centre or collective has drawn on culturally important objects and design features in the development of beautiful new installations and lighting products. Designed for both commercial and residential environments, the pieces in the exhibition can be purchased by the general public, and many of the larger pieces will be suited to workplaces, architects and corporates. Ngalya aims to provide Indigenous weavers with an additional income for their work while maintaining their traditional practices and to introduce new and compelling 'art products' into contemporary interiors.
2019 marks a decade since Koskela first began working with, and learning from, the weavers of Elcho Island Arts on Yuta Badayala (In a New Light). Ngalya celebrates and expands this spirit of collaboration and knowledge exchange through the development of exquisite new woven forms. Ngalya seeks to physically and conceptually illuminate these profound objects, allowing them to be seen anew. All the products in Ngalya are woven 'on Country', on the site of each artist's ancestral land and place of residence, and are hand woven using locally harvested plant fibres and natural, hand-made dyes. The collection, preparation and weaving of the fibres are all labour intensive processes: harvesting the plants, driving the boat, stripping the leaves, digging up and peeling the roots for dye, soaking the leaves, boiling the pot, drying the fibres all happens before the weaving commences, and are an integral part of production and maintains cultural practices.
Koskela is deeply committed to using their design and production skills to empower Aboriginal and Torres Strait Islander artists and makers. They facilitate collaborations between Aboriginal and Torres Strait Islander-owned art centres and their own design team, to create new contemporary design products and concepts in corporate and commercial environments. These projects generate an alternative income source, helping artists to continue to live a life they have chosen to lead and maintain their traditional practices. Koskela has worked with leading Australian and international corporations, as well as architects and design firms. With clients ranging from NAB and Westpac, to NOMA restaurant in Copenhagen and Qantas' headquarters in Sydney. Koskela is a registered member of the Indigenous Art Code, which means they are committed to preserving and promoting ethical trade in Indigenous art and Supply Nation, whose mission is to facilitate, encourage and promote business between corporate Australia and Government agencies and Indigenous owned businesses.
Ngalya
28 August – 18 September 2019
KOSKELA, 1/85 Dunning Avenue, Roseberry NSW 2018
koskela.com.au
FEATURED DESIGNS INCLUDE:
Product: Batjbarra (scoop) and Madjirr (string)
Art Centre: BULA'BULA ARTS
Location: Ramingining
In Ramingining, batjbarra (scoop) are woven to gather Rarrgi/Rakayi (water chestnuts). Here, a series of batjbarra by the women of Bula'Bula Arts have been reinterpreted, illuminated and suspended. Madjirr is the Dhuwa word for string, and the form is inspired by the making of bush string and bags.
Product: Nerrim Wurity (making it together)
Art Centre: DURRMU ARTS
Location: Peppimenarti, NT
Nerrim Wurity is a new iteration of Ngan'gikurunggurr fibrecraft, inspired by yerrgi (pandanus) circular sunmats and twined, conical 'airbell' baskets. In Nerrim Wurity these objects have been reinterpreted as a series of overlapping circular and elliptical panels, allowing intergenerational groups of weavers to experiment with new and old techniques, & collaborate together on one object. Artist Regina Pilawuk Wilson states: "one is like a mat, other is like that airbell basket, that long one, that one we lost; this is old and new weaving together."
Product: Yutu Dugitj (to grow together)
Art Centre: MILINGIMBI ART AND CULTURE
Location: Yurrwi Yutu
Dugitj can be translated as both 'a seed growing' or 'a grey hair sprouting.' Margaret Gamuti explains that Yutu Dugitj is also a metaphor for the senior and young women coming together at their art centre. This form is based on the rägudha (mud mussel); a nutritious source of food that grows at the base of the mangrove plants in and around Yurrwi.
Product: Taimer (stingray)
Art Centre: MOA ARTS
Location: Mua Island
The artists of Moa Arts are inspired by maalu (the sea that belongs to the land) and its creatures. For Ngalya, the Moa artists and Koskela designers have developed two forms based on the majestic Eagle Ray, and smaller blue spotted stingray.
Product: Wirra Walykumunu (Beautiful Bowl)
Art Centre: TJANPI DESERT WEAVERS
Location: NPY/APY Lands
Wirra and piti are carved wooden carrying vessels utilised daily by women from the Ngaanyatjarra, Pitjantjatjara and Yankunytjatjara (NPY) lands. This woven interpretation of the forms embodies the Tjanpi artists' innovative approach to contemporary fibre art & connection with past traditional practices & meaning.
Product: Ku:yitaipari (fish trap lamp)
Art Centre: NGARRINDJERI CULTURAL WEAVERS
Location: The Coorong, SA
Ngarrindjeri weavers Aunty Ellen Trevorrow, Aunty Noreen Kartinyeri and Bessie Rigney have transformed their sculptural coiled sedge weaving into organic vessels for light. The weavers' Ku:yitaipari (fish trap) forms are made from fine bundles of freshwater sedge grasses; they are bound by a single reed, used to wrap the core and bind the coils as the trap is woven. The freshwater rushes that once grew in abundance along the Coorong have been decimated by environmental degradation and a rising salt water table. The Ngarrindjeri weavers collect the rushes around the lakes, rivers and the Coorong areas on the Ngarrindjeri country and are crucial to the sustainable land management of the sedge harvest.