NGV launches virtual programs and exhibition tours
IMG LINK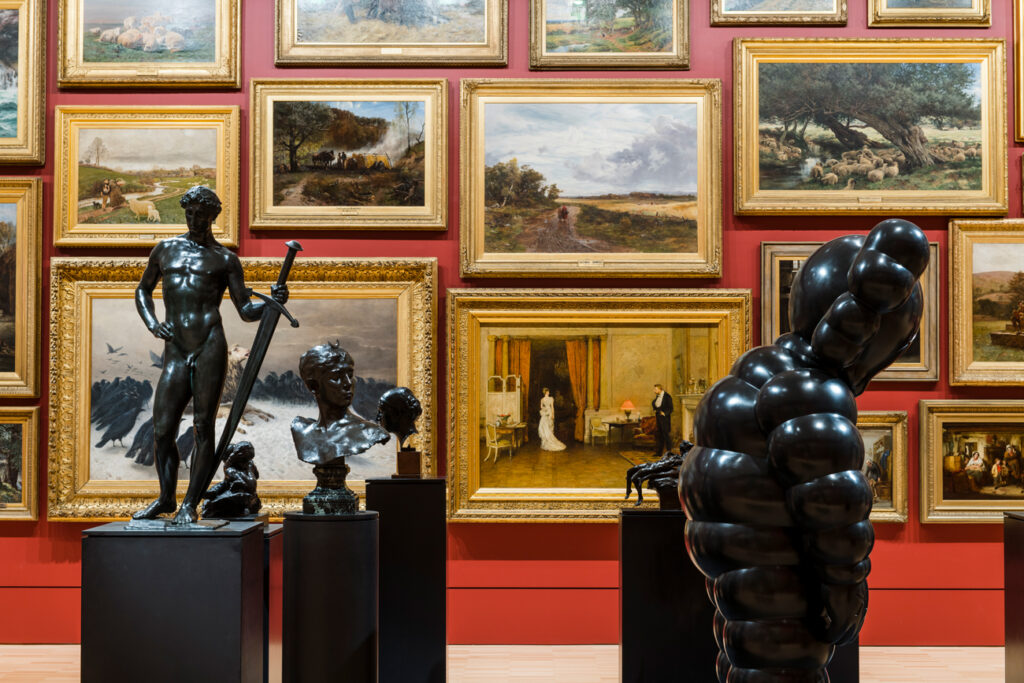 WATCH: ART IN FOCUS
In this series put art works under the microscope by de-coding some of NGV's most significant masterpieces through our new Art in Focus program. Hosted by NGV curators via live Webex video conference, the program will give audiences a deeper understanding of the significance and meaning behind each masterpiece. This free series focuses on a specific artwork in each program and analyses its composition, the technique used to create it, the context around the work, and intention and biography of the artist who created it.

Art in Focus: Shearing the Rams
Tuesday 12 May | 1:00pm – 1:30pm
Depicting a heroic rural scene and reflecting the importance of the wool industry to Australia's economy, Tom Roberts painted Shearing the Rams, 1890 over several seasons while he visited Brocklesby in country New South Wales. Discover how Roberts painted this work and understand the identities, characters and changes in its composition revealed by x-radiography.
Speakers: Michael Varcoe-Cocks, Head of Conservation, NGV and David Hurlston, Senior Curator, Australian Painting, Sculpture and Decorative Arts to 1980, NGV.
LINK TO BOOK: ngv.vic.gov.au/program/art-in-focus-shearing-the-rams/
Art in Focus: Trajan and the Widow
Tuesday 19 May | 1:00pm – 1:30pm
Learn about a dramatic Roman narrative and 15th century wedding tradition as NGV Curator Ted Gott shows audiences how to read the composition of a work and discover clues about the technique, context, story and artist intention in The Master of the Santa Felicità Adoration of the Magi, Trajan and the Widow.  
Speaker: Dr Ted Gott, Senior Curator, International Art, NGV
LINK TO BOOK: ngv.vic.gov.au/program/trajan-and-the-widow
WATCH: VIRTUAL EXHIBITION TOUR
18th and 19th Century Salon Gallery
This virtual tour of the NGV's salon galleries gives audiences an insight into our rich holdings of 18th and 19th century European and Australian art. Featuring some of the NGV's most important European historic paintings and sculptures by the likes of Auguste Rodin, Antoine Louis Barye and Alfred Gilbert, audiences will get an in-depth look into more than 143 paintings and more than 30 sculptures from the period. Exhibiting primarily British, French and Italian painters and sculptors, the hang features works by artists who all had their work displayed in the illustrious and historic 18th and 19th century exhibitions at the Salon in Paris and London's Royal Academy Summer Exhibition.
The NGV's holdings from this period are some of the best examples in the Southern Hemisphere, and the hang also features works by some of Australia's most acclaimed historic painters including artists such as Arthur Streeton, Charles Condor and Bernard Hall who all exhibited in London and Paris alongside their European contemporaries. Audiences can learn the stories behind of some of the most compelling paintings in the NGV's entire collection, which holds more than 75 000 works, by zooming in on the various paintings in the salon hang and reading the accompanying richly detailed descriptions about the works on our website. 

The virtual tour offers an at home experience of the exhibition space allowing audiences to zoom in and out of works, watch exhibition videos and read in depth artwork labels. 
WATCH ON NGV CHANNEL FRIDAY 22 MAY: ngv.vic.gov.au/virtual-tours
LEARN AT NGV:
NEW: VIRTUAL EXCURSIONS
Since NGV temporarily closed on March 16, we have had nearly 9000 students and teachers sign up to our online Virtual Excursions, a free forty-five-minute tour of an NGV exhibition or collection, hosted by an NGV Educator.
Due to popular demand, we have added more virtual excursions, giving students a real-life experience inside the gallery and allowing students and teachers to gain insights into some of the most interesting works at the NGV.

ART OF PORTRAITURE:
In the Art of Portraiture Virtual Excursion, students are shown some of the most famous portraits in the NGV Collection, including the well-known Self Portrait no.9, 1986, by Andy Warhol. Students discover what a portrait tells us about people, the times they lived in and why this type of art is important.
TEACHERS CAN BOOK HERE: ngv.vic.gov.au/ngv-virtual-excursions/art-of-portraiture-online
AUSTRALIAN LANDSCAPES:
Learn how landscape paintings reflect and shape Australian identity in the Australian Landscapes Virtual Excursion. Students will learn how artists express their identity, experiences and connection to country through painting their physical surroundings.
TEACHERS CAN BOOK HERE: ngv.vic.gov.au/ngv-virtual-excursions/australian-landscapes-online
COLONY TO NATION:
In the Colony to Nation Virtual Excursion, students can learn about Australian history through art, identifying the impact of colonisation on First Australians, Australian identity and interpret themes, concepts and ideas in Australian works. This virtual program brings history to life through visual analysis and storytelling, and explores several perspectives of history in art.
TEACHERS CAN BOOK HERE: ngv.vic.gov.au/ngv-virtual-excursions/colony-to-nation-online