Leading urban designers reimagine the street of the future in Brisbane
IMG LINK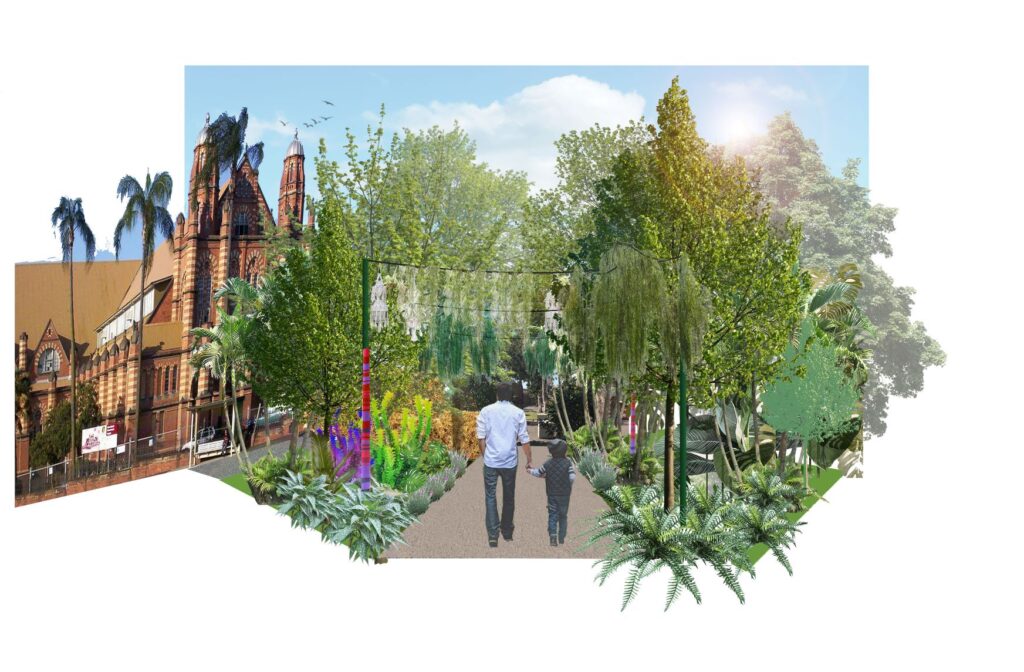 What could greener, healthier and more connected streets in Australia look like years from now? A leading Brisbane urban design group will have the answer when it partners with more than 40 organisations, sustainable businesses and volunteers – as well as myriad technologies – to build the 'street of the future'. The 70-metre interactive activation, named Green the Street, will be available for the community to experience from 9-18 August at Ekka in Brisbane.
Now in its second year, Green the Street is a radical reimagining of public space as an innovative, sustainable and people-focused city lab and carbon sequestration city park, rainforest and farm.
Green the Street was conceptualised in 2018 by Catherine Simpson, Senior Urban Designer at urban design consultancy RobertsDay. Last year, it attracted more than 200 000 people during Ekka. Due to its success, Green the Street grew into an independent community organisation that has since initiated green street concepts throughout Brisbane.
This year's street at Ekka will be bigger and better, with RobertsDay – the designers behind Brisbane's new Ripley Town Centre and Yarabilba Town Centre – and the Green the Street organisation leading the design and installation, and onboarding landscape designers, street artists, horticulturalists, gardeners, urban farmers and more to build the concept.
The street will showcase new street technologies such as electric bicycles, scooters and apps; sustainable ideas in carbon neutral construction, recycled furniture and bamboo structures; virtual reality views of the future; an urban agriculture hub with native beehives and locally produced food; hundreds of trees and hanging plants forming an urban rainforest; delicately yarned biometric artworks and structures; and an urban parkland with bicycles and murals. RobertsDay has also partnered with Queensland University of Technology to develop the Future Cities art wall that will ask the public to paint, write and draw what they would like to see in their future streets.
Some new installations at this year's Green the Street include:
A 'Future of Fungi' section that showcases the power of mycelium to sequester carbon, break down plastic and its use as a building material as strong as concrete
'The Circular Economy' in the street, which will demonstrate how – and why – we can turn waste into organic soil, and create street furniture out of recycled material
'Dystopia vs Utopia', which will demonstrate how we can respond to tech-heavy, hotter, drier and climactically altered future cities – and will explore the direction in which technology is taking us
Victoria Park Urban Farm, which combines urban agriculture and community-based design to the new Victoria Park.
Green the Street co-founder Catherine Simpson says: "Increasing urbanisation, the advent of electric and autonomous vehicles, and a move towards more humanistic cities are opening the possibilities to 'green streets'. Green the Street proposes changing how our streets function – by taking away the asphalt to allow for more bicycles, people, social spaces and health-enhancing landscapes. Green streets can positively influence not only our mental, physical and social health, but also our happiness and way of life.
"Currently, Brisbane serves the car first, with massive sections of this city dedicated to asphalt. We look forward to growing the Green the Street concept with the view to leading open, public debates on the topic between Brisbane's city-makers and our communities. We are reclaiming our streets."
Green the Street event details
Green the Street will be constructed between 5 and 8 August
The ribbon-cutting opening ceremony will be at 9.40am on 9 August.
RobertsDay and other designers will hold design talks on Tuesday 13 August
Wednesday 14 August: TV presenter and landscape architect Costa Georgiades will walk the street. Numerous suppliers and supporters will host live workshops on bees, green walls and more, illustrating how Brisbane communities can green their street.
Address: The Old Museum, 480 Gregory Terrace, Brisbane
Entry into the event: Gate 1a, The Flower and Garden Precinct, the EKKA, RNA Showgrounds