Tiny houses to tackle homelessness
IMG LINK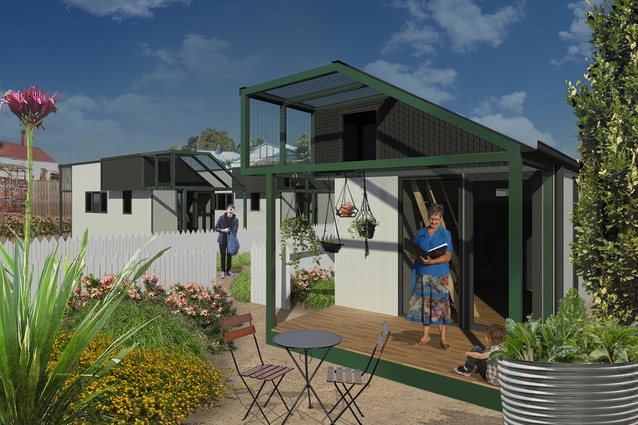 In a first of a kind collaboration 57 new affordable one bedroom homes will be located on vacant land in Melbourne's inner west, providing stable housing for people who have been priced out of the private rental market.
The unique partnership between major philanthropic donors Geoff and Brad Harris, Launch Housing, Vic Roads, and the Department of Health and Human Services will add much needed affordable housing stock to the Melbourne market.
Vic Roads will allow Launch Housing to develop nine parcels of vacant lands in the inner western suburbs of Melbourne (Footscray and Maidstone) creating 57 new affordable and transportable homes, providing a boost to affordable housing supply for low income singles and couples.
Designed by Schored Projects, the open-plan studio-style home will include a ground floor kitchenette, bathroom and a mezzanine storage space that cantilevers out on one side. Environmental components have also been considered, with double-glazed windows, high insulation ratings and cross-ventilation all being a part of the design.
The ongoing maintenance of the tiny homes has also been factored in and rather than using plasterboard they've used low cost high pressure laminate, along with readily available fixtures that can be easily replaced.
Brad Harris said growing levels of homelessness in Victoria is a serious concern that requires a whole of community response. "We hope to encourage other private donors to see social housing as a sector that really needs more private funding assistance. We will all benefit from working together to end homelessness," Mr Harris said.
Launch Housing Deputy CEO and Director of Services Dr Heather Holst said the partnership would benefit a growing number of single adults and couples who are at risk of homelessness due to the lack of affordable housing in Melbourne.
"Single adults are one of the largest group of people currently experiencing great difficulty accessing and maintaining affordable housing right now. This new partnership with Vic Roads will allow us to offer accommodation to people who really need a break. They can't get into private rental due to the high costs and they often don't qualify or have to wait up to a decade to access public housing," Dr Holst said.
"This project has the potential to grow and extend to other government and non-government bodies who hold blocks of vacant land that can be used to create high quality, relocatable housing to dramatically reduce the number of people experiencing homelessness in Melbourne."