The Palimpsest
IMG LINK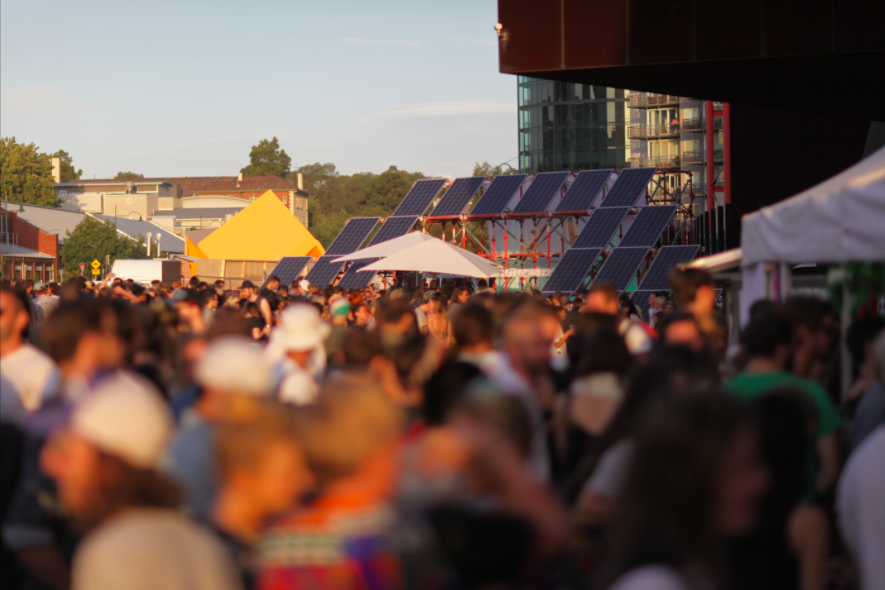 Last week Off the Grid, Australia's first solar powered, zero-waste music and arts festival unveiled The Palimpsest, a second stage for their inaugural conference program, and another reason for Melbournians to celebrate the power of the sun.
The Palimpsest will present some of Australia's leading environmentalists, architects, activists, entrepreneurs and foodies to the ACCA Forecourt, to participate in a conversational style discussion whilst reinforcing Finding Infinity's mission to connect and empower the city of Melbourne.
"Off The Grid is getting people talking about something we should all be talking about. Australians face a big challenge moving from having the developed world's biggest emissions per person to zero emissions." – Ross Garnaut, Chairman ZEN Energy.
This is not just another conference – The Palimpsest is a platform designed to promote the exchange of ideas and innovations by exploring experts' visions of future cities and transforming them into micro-action nowisms for festivalgoers to take with them.
Much like cities, A palimpsest is an ancient document that is rewritten and rewritten, over and over again, constantly evolving. Festivalgoers are invited to engage with speakers to create a user-generated experience, helping to shape the conference in real-time from 9am to 1pm, before The Palimpsest slowly fades into Off the Grid's diverse music and arts festival.
To make things sweeter, Off the Grid has connected with the Victorian Chapter of the Australian Institute of Architects to provide Continuing Professional Development points for architects who attend.
Conference speakers:
The Palimpsest welcomes Timothy Hill, previous director of Donovan Hill and founder of Partners Hill, as one of Australia's most prolific architectural minds. Hill is constantly evaluating the success of transformation in cities. His current work with Partners Hill includes the Long House (Daylesford) and the 2016 Mofo Aesop festival chamber (Hobart).
Natalie Isaacs, founder and CEO of 1 Million Women, a United Nations award-winning movement of 450,000 women who take practical action to fight dangerous climate change by changing the way we live. Natalie's own climate journey from apathy to real action cuts through the complexity surrounding climate change and delivers a simple message that resonates with women and girls of all ages.
Paul Gorrie is the Victoria State Coordinator of SEED, Australia's first Indigenous youth climate network, and is responsible for fostering a movement of Aboriginal and Torres Strait Islander young people for climate justice, as a branch of the Australian Youth Climate Coalition.
Foolscap Studio Director, with a Masters in Sustainability – Adele Winteridge recently headed up the design of the sold-out Noma Australia pop-up at Barangaroo South in Sydney, as well as Shebeen in Melbourne. Joining Adele is Joost Bakker, dubbed by The New York Times as "the poster boy for zero waste living". Founder of Melbourne's first zero-waste café Greenhouse, Silo & Brothl, Bakker's ideas have attracted global attention as a fighter for sustainability in multiple ventures.
Tané Hunter joins as a science communicator, futurist and bioinformatician at Future Crunch, working with big data in the biological realm and specialising in cancer research.
The Australian Institute of Architects Victorian Chapter Past President and Director of sustainability-focused architectural practice Six Degrees, Peter Malatt, will join multi-award winning residential architect Clare Cousins to discuss why they are passionate about new ways of doing business that are financially, socially and environmentally sustainable.
Rob Murray-Leach is Head of Policy at the Energy Efficiency Council. The Energy Efficiency Council is the peak body in Australia for energy efficiency, demand-management and cogeneration. After founding and running the Council as its CEO for six years, Murray-Leach stepped down in 2015 to focus on policy and outside interests.
Ellen Sandell is the first Greens MP elected to the lower house of Victorian Parliament. With a dual Bachelors of Arts/Science Degree from the University of Melbourne, Ellen began her career as a researcher with the National Science agency, CSIRO before moving into climate change policy, and later becoming the chief executive of a national climate change non-profit organisation, the Australian Youth Climate Coalition.
Another long-serving member of Australia's arts sector – Bronwyn Johnson is Executive Director of CLIMARTE, an arts programs that is produced to harness the creative power in informing, engaging and inspiring action on climate change. Bronwyn Johnson is the former Director of Australia's visual arts flagship event the Melbourne Art Fair and CEO of Melbourne Art Foundation.
Off the Grid utilises art and technology to showcase the transformation of a self-sustaining Melbourne through empowerment.
More information + ticket sales via Off the Grid.