Sydney Park wins international award
IMG LINK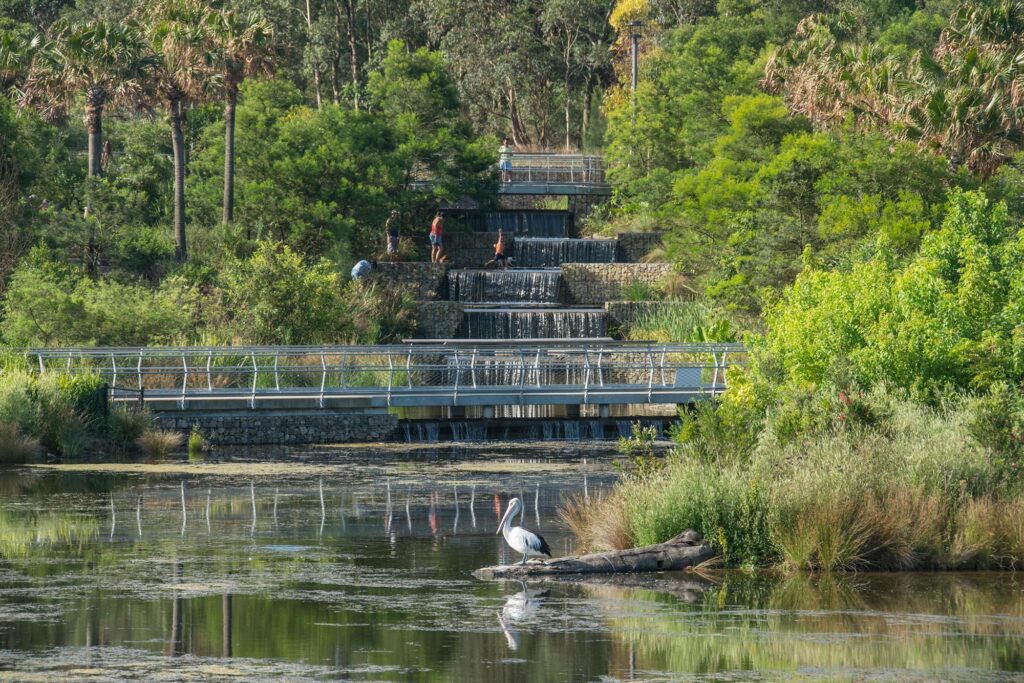 As governments work to create safer public spaces in a COVID-19-affected world, a much celebrated and frequented Sydney Park has been recognised in the world's most extensive architecture awards program for its contribution to the community and environment.
Announcing this year's 2020 Architizer A+ Awards winners in New York, Architizer said the Sydney Park Water Re-use Project – a public park integrating water infrastructure on one of the city's oldest post-industrial wastelands – had taken out top Jury Award in the Architecture + Water category.
The award is the second in recent weeks for the project, by Australian-based landscape architects and urbanists Turf Design Studio in collaboration with Environmental Partnership.
The Sydney Park Water Re-use Project was one of only three Australian finalists in total from 430 projects shortlisted from 5000+ submissions from more than 100 countries. Also shortlisted in the Architecture and Water category were an extraordinarily creative and eclectic collection of projects from the Arctic Circle to tropical Thailand, including: a water harvesting container-cum-learning facility and classroom at a school in Thailand; an adventure and polar exploration resort in Northern Norway; a warehouse storing materials for flood control in Suzhou China; and, a publication detailing the ancient art of terraced rice paddies in Bali.
Accepting the award, Turf Design Studio Founder Mike Horne said: "Current times are a stark reminder that it's never been more imperative for us to explore ways to creatively adapt existing and new spaces, wherever they may be, for the enhancement of life, and the public realm. Likewise, the celebration of water and our vital connection to it."
This year's Architizer A+ Awards focused on issues defining the future of architecture. New awards celebrate sustainable design and new approaches to building. These include collaborative categories like Architecture +Adaptive Re-use and Architecture +Water, which illustrate the changing demands of the industry today.
TURF Design Studio founder Mike Horne said Sydney Park Water Re-use Project demonstrates excellence in urban design through an integrated response delivering a dynamic, experiential urban space.
"The project highlights the benefit of significant design team collaboration, successfully bringing together water sensitive urban design, new interconnecting civil infrastructure, environmental bio-retention and a local urban water re-use system," Mike said. "We aimed to exemplify the urban design benefits that can be delivered from strategies such as Sustainable Sydney 2030 and the Sydney Green Grid."
The project is an integral component of City of Sydney's Sustainable Sydney 2030, which aims to replace 30 per cent of 2030 potable water demand. The park now captures and cleans 850 million litres of stormwater a year, making it available for re-use. At the same time, the reinvigorated park provides much-needed open space for relaxation and recreation in this high-density inner-city neighbourhood.
Native animal habitat was carefully considered and improved, with the wetlands now boasting the highest population of native bird species in the local area, including 22 wetland species.
The project was funded by the City of Sydney and built in partnership with the Australian Government through the National Urban Water and Desalination Plan. The design team incorporated multidisciplinary specialists led by landscape architects Turf Design Studio and Environmental Partnership. The team's expertise included hydrology, soils, ecology, engineering, and public art, as well as landscape design. The collaboration was central to the design process with the project also showcased by the NSW Government as a case study exemplar.
Turf Design Studio founder and project director Mike Horne said: "Turpin + Crawford Studio, David Knights (formerly Alluvium) and Mia Dalby-Ball (formerly Dragonfly Environmental) brought incredible verve, skill and openness of spirit to the project – their contribution cannot be underestimated. The City of Sydney also deserves special recognition for its curatorial rigour and commitment to quality on behalf of the community."