New acquisition for NGV Triennial
IMG LINK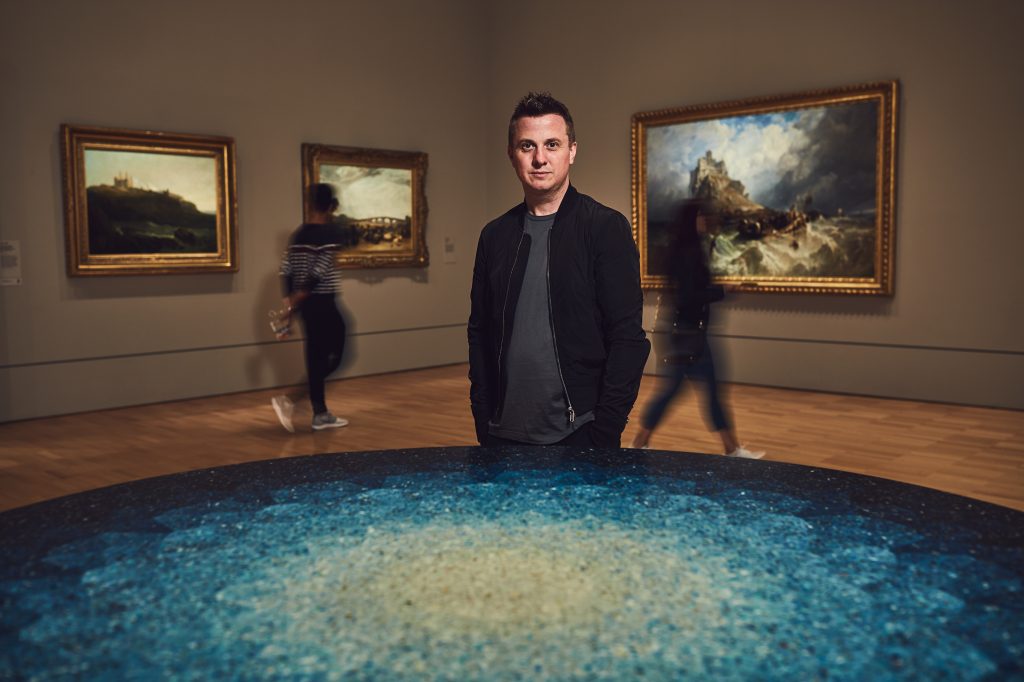 The National Gallery of Victoria is pleased to announce that NGV Triennial Principal Partner Mercedes-Benz Australia is supporting the acquisition of a major work by Australian designer Brodie Neill for the NGV's permanent collection.
Created from blue and white ocean plastic waste, which Neill and a team of environmentalists have collected from beaches around the world, Gyro, table 2016 is Neill's innovative contemporary interpretation of a nineteenth-century specimen table.
To create the work, Neill cast the harvested plastic waste in resin and then polished its surface, creating an effect that is reminiscent of terrazzo, which Neill himself refers to as 'ocean terrazzo'.
Depicting the Earth's longitudinal and latitudinal lines across its colourful surface, Gyro, table takes its name from 'gyres' which are large systems of circulating currents that move ocean water around the world – and with it millions of tonnes of plastic waste.
Gyro, table will be on display as part of the NGV Triennial, a free, gallery-wide exhibition of art, design and architecture featuring the work of more than 100 artists and designers from around the world.
Tony Ellwood, Director, NGV said: 'Neill's practice highlights the innovative ways in which design can critically engage with environmental issues. We are grateful to NGV Triennial Principal Partner Mercedes-Benz Australia for supporting the acquisition of one of Neill's most important works to date.'
Horst von Sanden, CEO & Managing Director, Mercedes-Benz Australia/Pacific said: 'Mercedes-Benz is delighted to support the immense artistic talent of Australian designer Brodie Neill. Notably, his work seeks to bring awareness and urgency to the issue of plastic waste in our oceans, a global scourge that he skilfully transforms into beautiful furniture.
'It's this type of big-picture thinking and innovation that also matters to Mercedes-Benz, as we lead the push towards zero-emission mobility whilst continuing to seek more sustainable methods of vehicle production,' said von Sanden.
Brodie Neill said: 'I was shocked to see the once pristine coastline that I visited as a boy, now choking with ocean plastic waste. For me, it was imperative to learn about the global scale of the problem of marine plastic and investigate how design can respond to this devastating problem. The research that followed brought together an international network of collaborators in tackling the global issue of marine debris, culminating with the Gyro, table representing Australia at the London Design Biennale 2016 with curatorial support from the NGV.
'I was recently in Stuttgart visiting Mercedes-Benz and it was fantastic to witness the state-of-the-art manufacturing, but also to discover our common vision of human centred technology. Mercedes-Benz's continued support of art and design enables forward thinking innovations in sustainability and propels the on-going conversation towards a better future,' said Neill.
Based in London, the Tasmanian-born Neill honed his design skills at the University of Tasmania and the Rhode Island School of Design where he developed a focus on the potential of computer-aided technologies. Neill has since forged a strong international design presence comprising collaborations with major brands, including Swarovski and Alexander McQueen, as well as public sculptures and collectible edition pieces for galleries and private collectors.
The acquisition of Gyro, table 2016 is being supported by Victorian Foundation for Living Australian Artists and Mercedes-Benz Australia/Pacific. Gyro, table will enter the NGV Collection at the conclusion of the NGV Triennial.
The NGV Triennial will be on display at NGV International, 180 St Kilda Road, Melbourne, from 15 December 2017 to 15 April 2018. Entry is FREE. Further information and the full NGV Triennial program is available from the NGV website: NGV.MELBOURNE