Dresden Mobile
IMG LINK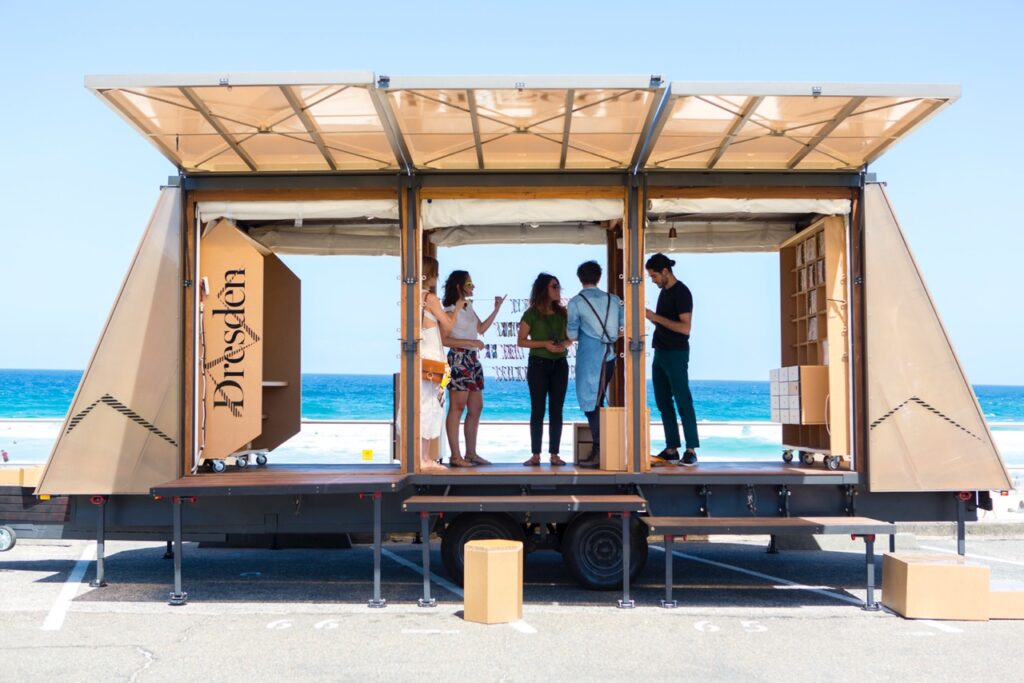 Dresden Mobile is coming to a street near you. Dresden is a new eyewear company that is set to revolutionise eyewear making it affordable, fun and sustainable. Dresden mobile is a transportable workshop that will allow Dresden to revolutionise commerce by taking the product to the people. Dresden mobile will be touring the country reaching remote communities that are not afforded access to eyewear health.
Dresden Mobile is an education tool to spread the word about closed loop recycling systems and eye health. You can wear glasses made from sea waste, milk bottle tops and even land-mines. Closed loop material recycling systems are also explored through the construction of Dresden Mobile using recycled content products such as the gold polycarbonate cladding and fully recycled materials such as the cardboard fit-out. Alexander Symes of ASA explains that "sustainable materials in architecture is about thinking how we can most efficiently use the worlds resources in a respectful manner, I believe we need to create closed loop manufacturing systems where no material goes to landfill or pollutes our natural ecosystems, but is rather up-cycled to minimise resource depletion and environmental degradation".
Creating a transparent customer experience where you can see how the product is made is what Dresden is about. Precision lenses are cut to your prescription in front of your eyes, and all components of the glasses are interchangeable and everything is recyclable. Dresden Mobile is every bit as functional, versatile and robust as the revolutionary eyewear system itself,  from the aerodynamic shape to the expressed structure of the operable awnings and platforms. Dresden mobile is a transportable, multi-use and adaptable workshop that affords Dresden the opportunity to share their amazing story of an affordable and sustainable product.
Dresden Mobile Environmental Initiatives
Small Architecture
Dresden mobile is inspired by the "tiny house movement" a response to the GFC and high costs of living, where those not able to afford land and the high-costs of construction started building their own on trailers and moving them where they wished. Dresden mobiles life actually started as a "tiny house" itself for Dresden Co-founder Bruce Jeffreys whose background in disruptive business models started when he co-found car-share company Go-Get in 2003. The project eventually shifted to become the mobile workshop for Dresden and is intended to double as a holiday home for Dresden staff when not being used for festivals and educational purposes.
Operational Energy
The electrical loads to power the manufacturing equipment such as the lens edging equipment is quite high and is powered by a generator, however the general lighting and point of sale electricity requirements are all feed from the in-built photovoltaic and battery storage system.
Thermal Comfort & Daylight Design
The challenge with creating transportable architecture is weight. Therefore lightweight systems such as the insulating polycarbonate facade were employed. This lightweight Danpolan polycarbonate not only has thermal insulating qualities greater than double-glazing, it also blocks out up-to 70% of solar radiation. The Awnings light up to create a sunshade for the workshop and allow for cross ventilation to assist with thermal comfort. The polycarbonate also allows for daylight to fill the workshop whilst minimising glare.
Materials
Dresden mobile is to be an exemplar of using re-cycled materials. Similar to the Dresden product line, the idea is not to say 'we have used 100% recycled products' but rather encourage industries to increase their percentage of recycled content so that we can all create 100% closed-loop recycled material systems. Examples of the recycled materials include:
◦ Recycled hardwood the floors, decks and trims
◦ Recycled Sails for the tent screens
◦ Recycled plywood for the ceiling
◦ Recycled content polycarbonate for the facade
◦ Recycled Re-board for the joinery
◦ Recycled copper for light baffles