Floor Show
IMG LINK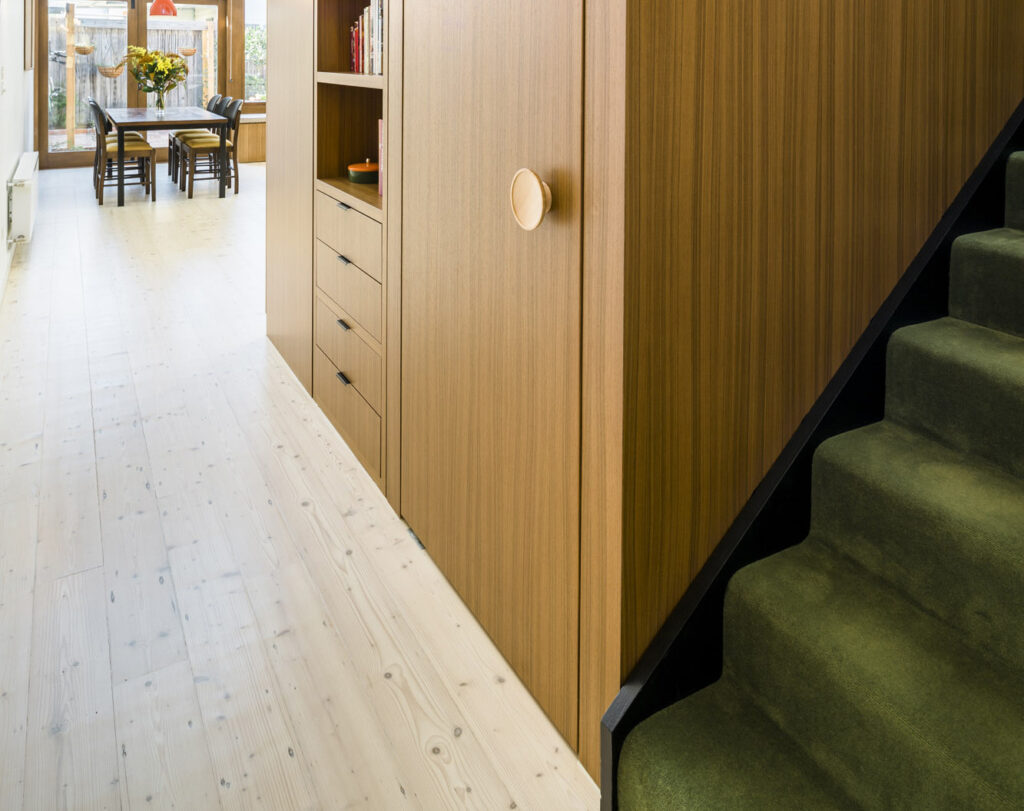 Whatever your aesthetic and textural preferences, there's a sustainable flooring option to suit.
Timber
Timber is a renewable resource and one of the most popular and well-performing environmental building materials. Growing trees absorb carbon dioxide from the atmosphere, which remains locked up in the wood even when it's used as a building material. As well, timber has low embodied energy – it requires less energy in the harvest, transportation and manufacturing process compared to other building products. Recycled timber is the most sustainable choice. The next best option is certified sustainable virgin timber. To ensure timber is sustainably grown, choose FSC (Forest Stewardship Council) or AFCS (Australian Forest Certification Scheme) certified products. While some starrating systems only recognise timber certified by the FSC, it is often easier to find Australian timber certified by the AFCS, which is supported by the Australian government and industry.
For more information:
woodsolutions.com.au
kennedystimbers.com.au
kennedysartco.com.au
mafi.com.au
admonter.com.au
vicash.com.au
ecotimbergroup.com.au
hurfordwholesale.com.au
recycledtimber.net.au
historicaltimberfloors.com
urbansalvage.com.au
royaloakfloors.com.au/environment-and-safety
Rubber
Rubber flooring made from recycled products or sustainably harvested rubber is one of the hardest-wearing flooring materials, plus it's one of the easiest to install. It's made from liquid latex – a substance similar to sap – extracted from rubber trees. Avoid rubber flooring made from synthetic rubber as it's not a sustainable option. Rubber floors are extremely soft underfoot and fade resistant, but they can be difficult to clean so you may choose another flooring material for messy areas like kitchens and bathrooms. Enviro Rubber manufactures all of its products from recycled rubber tyres, which it says can be remoulded into shape over and over again.
For more information:
forbo-flooring.com.au
envirorubber.com.au
spectrumfloors.com.au
Cork
Cork flooring is manufactured from the bark of cork oak trees that grow in the western Mediterranean region. These trees must be 25 years old before their first harvest and a further nine years must pass before subsequent ones, which helps to ensure cork is a sustainably harvested resource. A cork oak tree can be safely harvested up to 20 times during its life. Because the bark is removed without damaging the tree, cork products come from a highly renewable source. Once bottle stoppers are punched from cork slabs, the waste is usually ground, moulded and baked into other uses, including a wide variety of cork floor finishes. The result is a durable, impermeable, lowtoxic, easy-to-clean flooring product, which is popular in commercial and household applications. Cork has excellent thermal and sound insulation properties so it's perfect for high-traffic areas. It's also a natural fire retardant and anti-microbial. Cork flooring has always been "green" but it has recently undergone an eco-chic makeover. Companies like Comcork Flooring use recycled cork materials in 70 per cent of their products, including recycled wine corks. Cork flooring options are available for indoors, outdoors and wet areas at a cost of about $120 per square metre. Floating varieties of cork flooring are becoming increasingly popular. The Floor Shop offers six types that are suitable for most areas of the home.
For more information:
corkfloors.com.au
comcork.com.au
markettimbers.com.au/cork.html
ecologiconline.com.au
thefloorshop.com.au
Carpet
While it is a sound insulator, carpet is not traditionally a green choice, as its manufacture can be energy intensive. Velieris uses undyed, naturally coloured fibre, which takes substantially less water and energy to produce than traditional, dyed carpets. Flooring Xtra has a carpet made from recycled soft drink bottles, Godfrey Hirst offers one made from corn fibre and Floorspace specialises in carpets made from sisal (manufactured from the Agave sisalana plant), coir (from coconut husks) and sea grass. The Australian Carpet Classification Scheme awards a rating to carpets that meet minimum standards for VOC emissions, acoustic performance and thermal insulation. It's also important to consider the carpet underlay for reduced wear and improved insulation. Products like TacTiles (from Interface) secure carpet in place with small, clear plastic, adhesive squares and are a sustainable alternative to traditional glue-laden underlay.
For more information:
velieris.com
godfreyhirst.com/au/ecoplus
flooringxtra.com.au/flooringguide
godfreyhirst.com/au/ecoplus
floorspace.com.au
interfaceflor.com.au
carpetinstitute.com.au
Concrete and substrates
If your house is built on a concrete slab, you might choose to forgo flooring materials altogether and simply polish your in-built floor. The density of concrete translates to high thermal mass – a definite plus if you live in a cool climate. With well positioned windows – and especially if the slab receives northern sunlight – winter sunlight warms the slab and come night-time this heat is released back into the room, which reduces the need for artificial heating. If you're laying down a new slab, it's worth remembering that concrete has a huge eco-footprint. However, there are ways to reduce this impact. Cement mixes, which blend waste products like fly ash (the by-product of burning coal) and slag (the by-product of steel manufacturing) with cement, help to reduce the cement content of the slab. E-Crete consists of fly ash and slag, which its manufacturer says reduces its embedded carbon by at least 60 per cent compared to ordinary Portland cement. You can also use polystyrene pods in the slab to improve its thermal performance and add slab edge insulation to stabilise the concrete from fluctuating air temperatures. An alternative to a concrete slab below finished flooring is magnesium oxide cementitious board as a substrate. The producer of Inex>Floor describes this innovative flooring as having considerably less embodied energy when compared with fibre cement board or calcium silicate-based plasterboards. Other important benefits are the strength of the product and its durability.
For more information:
zeobond.com
boral.com.au/concrete
inexboards.com.au
Bamboo
Bamboo flooring is fast becoming a popular alternative to timber. It looks like a type of tree but is actually a fast-growing grass plant. Experts believe its use has fewer environmental and greenhouse impacts than harvesting timber, largely because it grows at a much faster rate. The most common species matures in three years. Bamboo is also self-generating – it doesn't require replanting as the root system remains in place – and its production uses little or no pesticides and fertilisers. Bamboo flooring is hard-wearing, durable and easy to clean. Even though most bamboo floors available in Australia contain low emission glues, some varieties are manufactured using glue that can emit nasty VOCs, so be sure to ask before you buy. FSC-certified bamboo flooring is available.
For more information:
houseofbamboo.com.au
premiumfloors.com.au
letobamboo.com
bamboofloors.com.au
Specs
Relevant Designbook Suppliers