Architects of MINI LIVING – INVERT 3.0 revealed
IMG LINK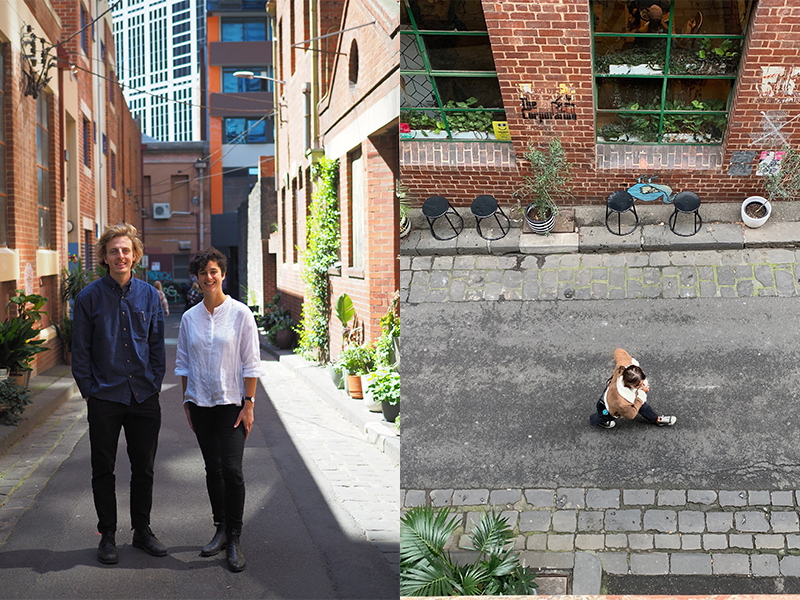 green magazine and MINI announce the third iteration of their architecture-led collaborations: MINI LIVING – INVERT 3.0. Continuing to challenge notions of how and where we live, this year's exhibition will explore the potential of laneways. Faced with the pressure of a steadily increasing population, laneways offer opportunities for adaptive reuse, intergenerational/communal living and sustainable mobility.
Common to many Australian cities and suburbs, laneways and the land that connects with them are often used for rear property access or storage. Architects, however, are seeing the potential offered by these underutilised urban corridors. More and more, they're creating projects that embrace laneways and connect with surrounding communities.
These ideas inspire MINI LIVING – INVERT 3.0. This year's exhibition will investigate how design can bring new life to the laneways of Australian inner-cities and suburbs. green magazine has invited a selection of architects to respond to a hypothetical brief to design an independent dwelling on a piece of land carved from a suburban Melbourne block. Architects will also create scaled models of their designs to be presented in an exhibition.
The continuing involvement of RMIT University invites emerging voices in the design community to share their ideas. RMIT Masters of Architecture students will respond to the same brief, with their larger-scale vision to be interpreted via 2.5-square-metre model exhibited alongside the architects' submissions.
Ian Nazareth, Program Manager, Master of Urban Design, Lecturer and Industry Fellow, Architecture, RMIT School of Architecture and Urban Design comments: "[RMIT's] work [will] consider shared and public space, through engaging with the form and typology of social programs associated with individual dwellings. Underutilised pockets in suburban allotments, easements and so on are now leverage, perhaps even a currency."
The third year of collaboration between green magazine and MINI has seen the MINI Profiles editorial series evolve into MINI Portraits: a collection of videos in which each of the participating architects will guide viewers on a brief tour of their favourite Melbourne laneway. MINI Portraits will be released episodically via green magazine in the lead-up to MINI LIVING – INVERT 3.0. Watch the first video with Emlyn Olaver of Olaver Architecture here.
Editor of green magazine, Tamsin O'Neill shares that the exhibition will highlight the virtues of laneways. "I grew up in Melbourne on the edge of the city. I love these quiet thoroughfares, the borrowed landscape of the laneway directly beyond the window. Our proposal for MINI LIVING – INVERT 3.0 is to expand this inner-city model to the suburbs to see how this idea inspires architects and students. Can thousands of laneways and underutilised back gardens become communities in themselves?"
Alex McLean, Head of Marketing for MINI in Australia & New Zealand notes that the focus on laneways coincides with MINI's values. "MINI was built on the philosophy of creative use of space and we are thrilled to explore this for the third consecutive year with MINI LIVING – INVERT and green magazine. This year, we will showcase the quality and consideration of some of Australia's small-scale architecture firms and their interpretation of resource-conscious living in Melbourne's underutilised laneways."
For more information, head to: greenmagazine.com.au/invert
MINI LIVING – INVERT 3.0
13 – 17 November, 2019
Rapha Melbourne, 32 Guildford Lane
Official list of participating architects
ioa studio and Alexandra Buchanan Architecture
Grant Amon Architects
Field Design Studio
Olaver Architecture
Taylor Knights Architecture & Interior Design
Wolveridge Architects
Studio Edwards
Ben Callery Architects
Moloney Architects
Topology Studio
Matt Gibson Architecture + Design
About MINI Living
MINI Living started in 2016 and is dedicated to developing novel residential concepts for urban conurbations worldwide. Developments in big cities such as space shortage and price increases are taken into account, as well as the desire for flexibility, local identity and communal interaction. In order to address these diverse aspects, the project takes the "creative use of space" principle as developed for the classic Mini in the field of automotive design and applies it to the residential context.