UPTOWN: an exhibition for our city announces February events
IMG LINK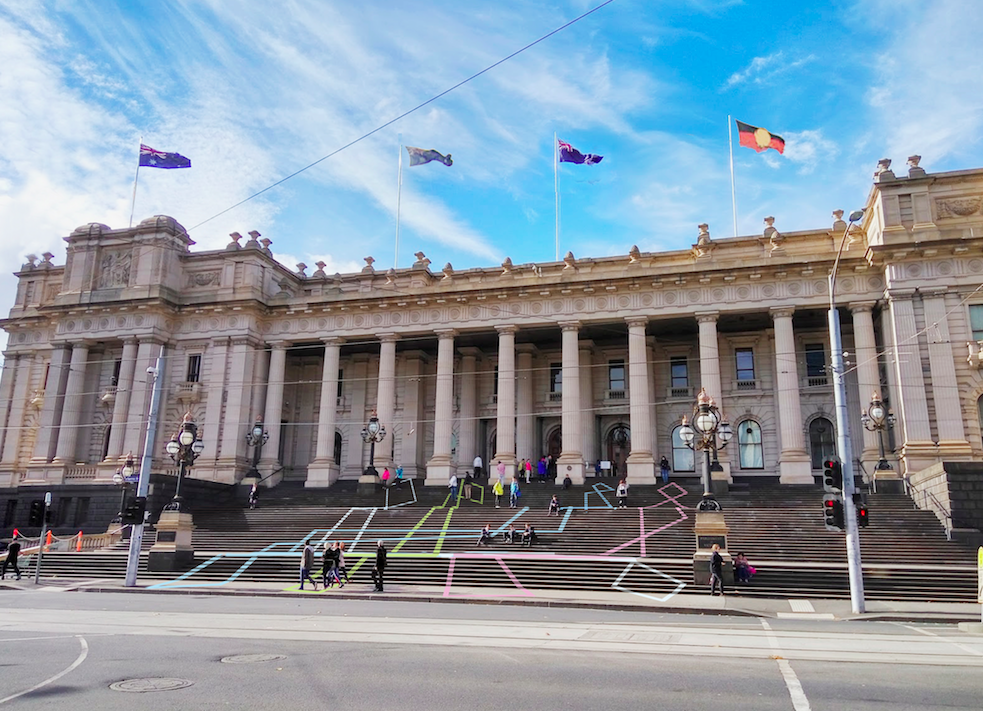 UPTOWN: an exhibition for our city being delivered by the City of Melbourne and Creative Directors Robert Buckingham and Fiona Scanlan, announced a program inspired by the role artists play in making Melbourne a "creative capital" and how artists contribute to the social, cultural, and economic life of the city. The free exhibition at the top end of Bourke Street has become a significant drawcard over summer, encouraging people back into the city to support local shops, restaurants, and cafes. It features 26 contemporary Melbourne artists, including Peter Atkins, Kerrie Poliness, Louise Paramor, Destiny Deacon, Bill Henson and Polly Borland.
Special events for February 2021:
PARLIAMENT STEPS WALKING DRAWING on 6 February at 12–3pm, at Parliament House.
Artist Kerrie Poliness has been commissioned by ACCA (Australian Centre for Contemporary Art) to produce a public art event for the UPTOWN exhibition. This special project is designed for the steps of Victoria's grand Parliament House. It continues Melbourne artist Kerrie Poliness' ongoing series Generation Mesh, where large architectural drawings are created in public by groups of people using coloured chalk. The drawing will be developed on Saturday morning 6 February from 9 am-12noon. Participants are welcome and can register at acca.melbourne.
The series is characterised by geometric compositions that reference social, design, and computational networks and collaborative and adaptive inter-relationships between people and the world. Poliness invites diverse public members to work together to create a collective drawing according to a compositional template and instructions, the results revealing the interconnective processes and patterns of nature and people.
For Parliament Steps Walking Drawing, Poliness has devised a geometric pattern that will contract and expand as it descends the terraces and steps of Parliament – a location selected for its classical architecture and status as a civic institution. The work will eventually be erased by rain or foot traffic. The event is supported by the City of Melbourne and part of ACCA's "Who's Afraid of Public Space?" program.
MRELAY UPTOWN: REINVENTING THE CITY on 13 February at 10 am-12.30 pm, at MPavilion Parkade.
A collaboration with Uptown and MPavilion's popular MRelay – Fiona Scanlan and Robert Buckingham join the Lord Mayor Sally Capp to present an action-packed discussion on the role of artists and designers in Melbourne's future.
Presented in a relay-style format, MRelay speakers include Fleur Watson (curator, academic, director of Open House Melbourne); Millie Caitlin (designer, creative precinct creator); Bill Henson (artist), Barrie Barton (director, Studio Right Angle, place maker); Su san Cohn (artist and CBD resident); Michael Trudgeon (architect, designer, and educator); Eugenia Lim (artist, lecturer VCA); Rory Hyde (architect, curator, formerly head of Architecture Dept at V&A); Kent Morris (artist) and Wendy Lasica (creative producer and urban planner).
UPTOWN's key supporter is the City of Melbourne. Local graphic designer, Projects of Imagination and lighting designer, bluebottle, and app developer ZOME have generously supported their services to the exhibition design. Other supports include ACCA, ACMI, MPavilion, Turning Circle Collective, Dexus, BMG, Plakkit, Printco, MECCA, L.U.Simon, CBRE, The O'Brien Group, and Hotel Windsor.
The exhibition continues until Sunday 28 February 2021.
For further information, visit uptownartexhibition.com.au. Instagram @uptownartexhibition.