The Living Pavilion celebrates Indigenous knowledge and sustainability
IMG LINK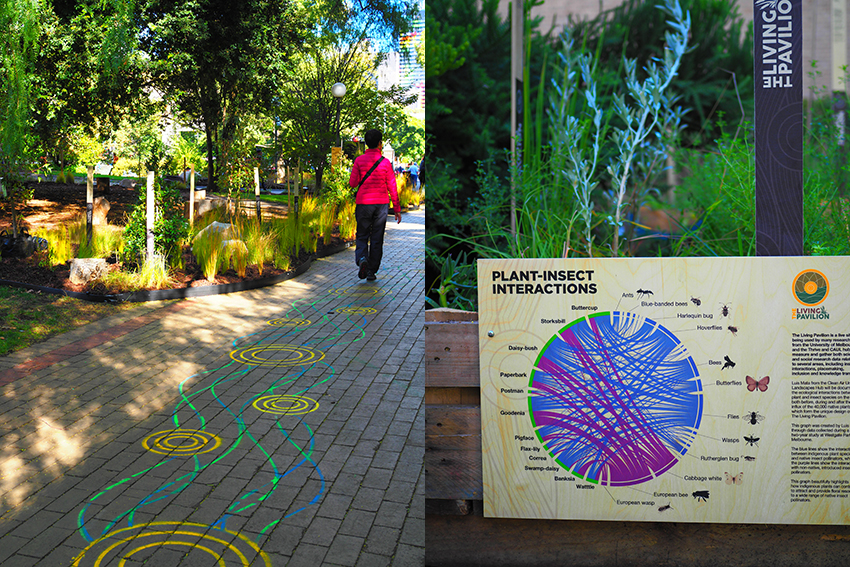 The Living Pavilion, a 17-day event exploring and honouring Indigenous knowledge, ecological science and sustainability has opened at Melbourne University's Parkville Campus. Hosted until 17 May as part of ART+CLIMATE=CHANGE 2019, the immersive installation will host 60 free public events with a focus on Melbourne's natural environment.
Stepping into The Living Pavilion off ever-busy Grattan Street is like taking a deep breath of fresh air. A swirling piece on the path (created using eco-friendly temporary paint and based off a design by Aboriginal artist Dixon Patten) is a reincarnation of a stream called Bouverie Creek that once flowed on the grounds of the university.
This introduction to The Living Pavilion immediately establishes a strong sense of history and local context, an important theme for the team behind the project, led by Dr Tanja Beer (University of Melbourne Faculty of Architecture, Building and Planning) along with Zena Cumpston (Research Fellow, Clean Air and Urban Landscapes Hub) and Knowledge Broker Dr Cathy Oke.
"I see this as a healing space, and it's a space for reflection," shares Zena Cumpston, on-site at The Living Pavilion. As a proud Barkindji woman, for Zena this project represents her love of Country in an urban environment. "I love this space because as an Aboriginal person, I have to go out to the country … to be around the plants that have all these cultural stories that are important to me and tell me about my own people and our knowledges. To have something like this in an urban area, I think, is really special."
Special, it sure is: a number of passersby stop to look, read signs and take photos of the space while we chat. The Living Pavilion includes a performance space, a Gathering Tree, Makers Space, a stage and an Indigenous community garden. While the pavilion functions as a free-flowing whole, these spaces establish their own, distinct presence through immersive soundscapes.
Further celebrating local Indigenous ecology, the plant list is comprised of 40 000 Kulin Nation plants devised by Zena and Charles Solomon with Ecodynamics. "All of the plants were chosen because of their importance to Aboriginal peoples," Zena explains.
Sustainability was a priority for this project. All plants remain in plastic containers to allow easy relocation to their next home as part of a major Victorian government project. After consultation with Ecodynamics, it was identified that recycled plastic was the most sustainable option given that the pots are reused – some, in fact, for as long as 10 years. "We've made decisions about everything we've used to be as sustainable as possible," Zena notes. "You can see the layers, you can see some of the plastic and pots – and that's absolutely fine, because it shows the complexity of our shared history."
The Living Pavilion may be a temporary installation, but its historical significance and poignance exist outside of the confines of time.