The Big Design Market returns for 2019
IMG LINK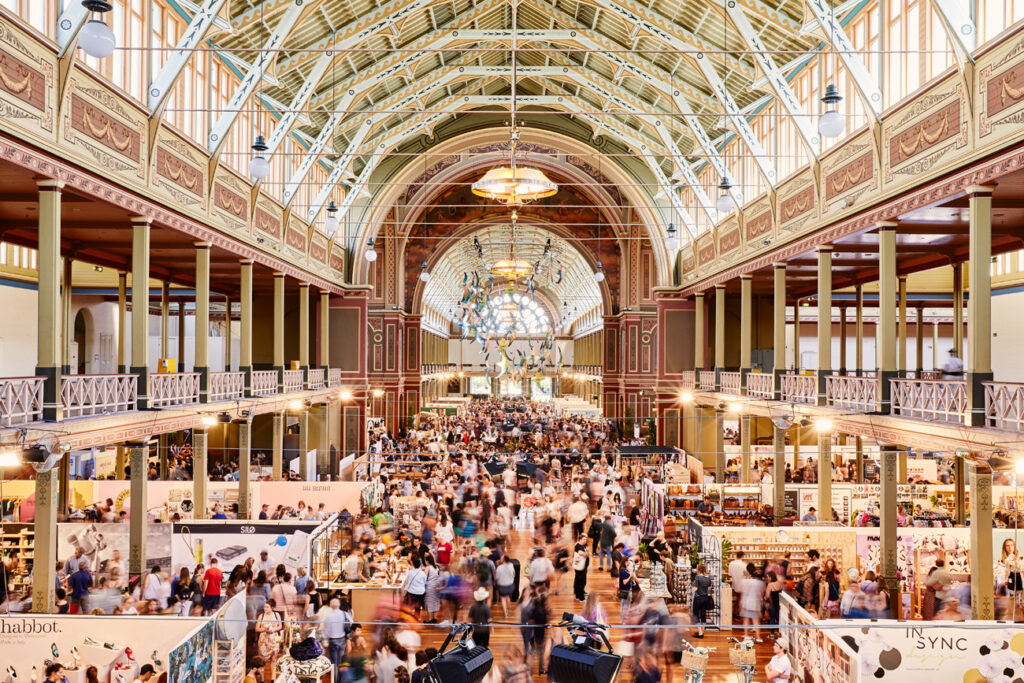 The Big Design Market is returning to Melbourne on 6-8 December for its eighth year running. Taking place at the iconic Royal Exhibition Building, The Big Design Market is for the foodies, the families, the dreamers, and all lovers of ethically made designer goods.
In the lead up to the festive season, The Big Design Market is the ultimate place to find exceptional gifts to delight every loved one. Boasting over 250 Australian and international stallholders, fine food and wine experiences, and a host of curated activities for attendees of all ages, the event is a joyful spectacular of shopping, eating, drinking, creating and playing – all under one roof.
There will also be limited-edition designer show bags, a major prize draw worth over $1800, a fun-packed kids area complete with jungle gym by Good Design Australia Award-winners Funky Monkey Bars and calming creative activities for kids of all ages. The event is also set to be visually captivating with a monumental installation by artist Penny Ferguson of Min Pin , which will be on show exclusively at The Big Design Market.
Guests can also expect an array of delicious food and drinks, with premium tastemakers such as 400 Gradi, Miss Chu and Earl Canteen keeping hunger at bay. Tasmania's Moo Brew and Willie Smith's along with Sydney's Archie Rose Distilling Co will be serving up festive refreshments for thirsty shoppers. There'll also be a mouth-watering selection of sweets by Koko Black Premium, Esti Garcia Patissier, Billy Van Creamy and LuxBite. The opening day on Friday 6 th will feature a late finishing time of 9pm, making it the perfect setting for Friday night drinks.
Director Simon Obarzanek explains how '2019 is all about sustainability and innovation. For starters, we've got designers who want to make your every dining experience as friendly to the Earth as it is to your taste-buds, like Beetbox with their multi-use takeaway bowl, Rolla Bottle and their literally roll-up-able, reusable drink bottles, and Cutlery Carriage, with their clever cutlery carriers. As for improving the way we function in the day-to-day, Orbitkey are back with their ingeniously simple, life-streamlining key holders, Lekker Bikes are showcasing their beautiful electric cycles, and I am personally very excited to see the Lapod from Objct Co – a primo product that means no more hot laps or sore necks when you use your laptop.'
Since The Big Design Market began in Melbourne in 2012, the event has become famous for delivering a peerless shopping, dining and entertainment experience to visitors across Australia. Numbering approximately 30,000 annually, guests to The Big Design Market know to expect a day full of all that is fresh, fun, innovative and uplifting.
Event details
DATES AND TIMES
Friday 6 December, 10am–9pm
Saturday 7 December, 10am–7pm
Sunday 8 December, 10am–5pm
ADMISSION
Adults: $5 Kids (12 and under): free
VENUE
Royal Exhibition Building, Carlton Gardens 9 Nicholson St, Carlton VIC 3053
DISABILITY ACCESS
The Royal Exhibition Building is wheelchair accessible and houses the lift and amenities, including accessible toilets.
EFTPOS/CREDIT CARD/CASH FACILITIES
All payment options are accepted. The majority of stallholders at The Big Design Market will have Eftpos and credit card facilities, and there are several ATM machines located inside the venue.