SCCI Architecture Hub to return for 2019
IMG LINK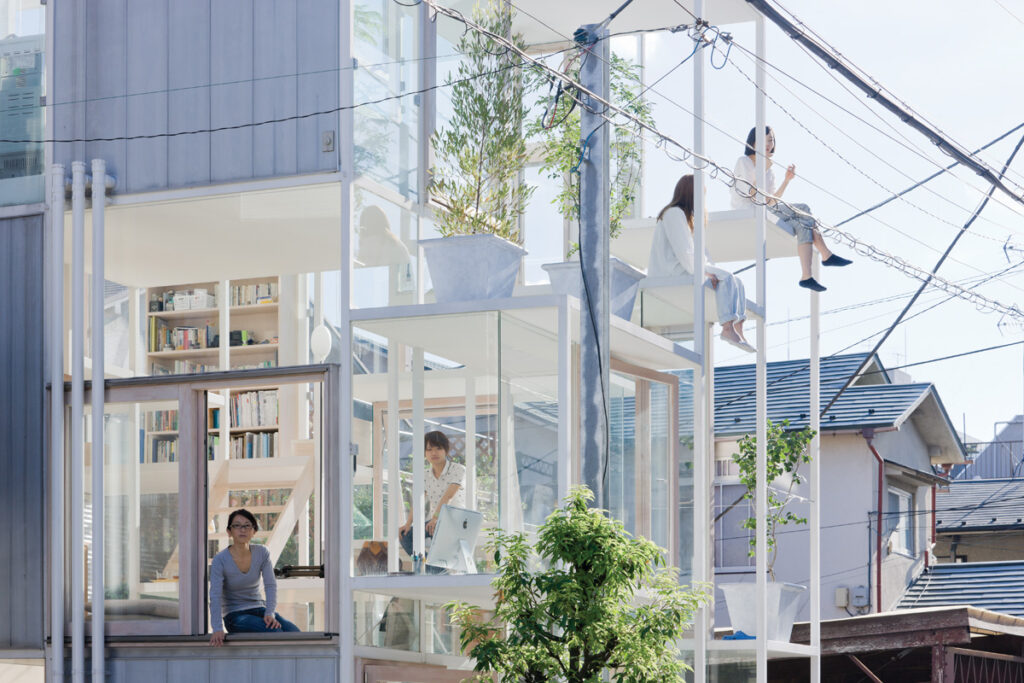 Founder, Executive and Artistic Director of the Sherman Centre for Culture and Ideas (SCCI), Dr Gene Sherman AM today announced the SCCI Architecture Hub 2019, October 10-19. With more than 50 international and local speakers at the helm, SCCI Architecture 2019 brings to Sydney the world's most impactful, contentious and state-of-the-art ideas via practitioners shaping architecture, design and urban environments.
"Within the context of past histories and taking into account present trends," says Dr Sherman, "the Foundation's 2019 Architecture Hub continues to explore architectural styles, the growing impact of design in contemporary societies and the evolution of the built environment – as humankind comes to terms with massive population growth and the fragility of our planet's resources."
"Welcoming some fifty local speakers, eight international leaders in their field, and four international headliners, the hub brings together architects, landscape designers, writers, academics, theoreticians, psychologists, judges, prosecutors, investors, hoteliers, visionary developers and other professionals. In short, SCCI Architecture Hub 2019 looks to dive deeper into the architectural conversation, expanding on previously foregrounded topics whilst looking to the future. We look forward to welcoming both professionals and the wider public to ten days of stimulating and transformative discussion."
Distinguished international keynote speakers for 2019 include Japanese architects Sou Fujimoto (Serpentine Gallery Pavilion 2013, L'Arbre Blanc Montpellier 2017) and Jun'ya Ishigami (Serpentine Gallery Pavilion 2019, and Kenzo Tange Design Critic at Harvard University). Joining them is award-winning French architect, urban planner and educator Odile Decq (Phantom L'Opéra Restaurant, Opéra Garnier Paris 2011, Museum of Contemporary Art of Rome extension 2010, and founder of Confluence Institute for Innovation and Creative Strategies in Architecture). From the Middle East, Professor Ido Bruno, Director of the Israel Museum, Jerusalem, will present aspects of the encyclopaedic institution's collections from antiquity to the present day. Iranian-Kurdish author, poet, film producer and human-rights defender, Behrouz Boochani (No Friend But The Mountains: Writing From Manus Prison), presents a keynote via live video link from Manus Island, where he has been detained by the Australian government since 2013.
KEYNOTE SPEAKERS:
ODILE DECQ
Thursday 10 October, 6 PM
Eternity Theatre Playhouse
Odile Decq, an award-winning French architect, urban planner and educator, is the Founder of the Paris-based firm, Studio Odile Decq and the RIBA-accredited Confluence: Institute for Innovation and Creative Strategies in Architecture (an innovative school which she conceptualised, designed and directs).
SOU FUJIMOTO
Friday 11 October, 6 PM
Museum of Sydney
Sou Fujimoto, architect and Founder of Sou Fujimoto Architects, operates twinned bases in Tokyo and Paris. Among Fujimoto's notable works are the Serpentine Gallery Pavilion 2013, Final Wooden House 2005-08, l'Arbre Blanc in Montpellier 2017 and Naoshima Pavilion 2016.
JUN'YA ISHIGAMI
Saturday 12 October, 4 PM
Museum of Sydney
Jun'ya Ishigami, architect and founder of Tokyo-based firm junya.ishigami+associates, is currently the Kenzo Tange Design Critic at Harvard University and Associate Professor at Tokohu University. Ishigami unveiled his 2019 Serpentine Gallery Pavilion in London, which opened to the public on 21 June.
BEHROUZ BOOCHANI
Monday 14 October, 6 PM
Justice and Police Museum
Behrouz Boochani, an Iranian-Kurdish author, journalist, human rights defender, poet and film producer,  wrote hs memoir, No Friend But the Mountains: Writing from Manus Prison, on a mobile phone in Farsi during his incarceration on Manus Island. Since translation and publication, the book won the Victorian Prize for Literature and the Victorian Premier's Prize for Non-Fiction. In April 2019 Boochani won the Special New South Wales Premier's Literary Award. His work has been described as "an outstanding work of literature in its own right", apart from being "…remarkable for the circumstances of its production…[and]…compelling and shocking content." Boochani joins SCCI via video link from Manus Island for a solo presentation exploring the architecture of injustice.
PROFESSOR IDO BRUNO
Wednesday 16 October
Professor Ido Bruno is the current Director of the encyclopaedic Israel Museum, lsrael's foremost cultural institution and home to some 500 000+ artefacts. Ido Bruno, previously design professor at Israel's Bezalel Academy of Arts and Design for 25 years, founded a design studio which made international headlines for an earthquake-proof desk made in collaboration with former student Arthur Brutter and Brian Tucker of GeoHazards International.
"Architecture Hub seeks to complicate the architecture and design conversation by setting these most distinguished, culturally significant professionals alongside other disciplines, creating progressive, informed and unusual conversations." – Dr Gene Sherman AM.
MORE THAN THIRTY THEMED EVENTS:
SCCI aims to deliver thought-provoking thematic keynotes, talks, demonstrations, debates, films and panels for 2019 including Architecture and Memory, Ar(t)chitecture, The Architecture of Justice, Architecture of Human Happiness, Architecture: The Picture of Health, Architecture Book Club, Form and Formative Years, Brutally Sydney, and Bricks and Budgets.
SCCI Architecture Hub 2019 thematic events include:
Architecture of Justice will be presented in the Justice and Police Museum. The role of architecture and design in Australia's court system and beyond will be explored, particularly the criminal court system and its bearing on jury outcomes. Guest speakers include Diane Jones (PTW Architects), Justice Melissa Perry QC (Judge of the Federal Court of Australia), Professor David Tait (University of Western Sydney) and former Senior Crown Prosecutor Mark Tedeschi AM QC (Wardell Chambers).
Brutally Sydney looks at Sydney's international significance as a Brutalist city, the way this architectural aesthetic still shapes Sydney's social, political, economic and heritage debates. Speakers include Councillor Philip Thalis (City of Sydney), Phillip Arnold (Plus Minus Design), Simon Rochowski (studioplusthree) and Glenn Harper (PTW Architects and author of Sydney Brutalism: Lost and Legacy Projects), moderated by Rebecca Hawcroft (curator, 'The Moderns', Sydney Living Museums).
Ar(t)chitecture explores the intersection of art and architecture. Moderated by Alison Kubler, editor of VAULT Magazine, guests include one of Australia's pioneering street artists, Anthony Lister, who is joined by Italian-born, USA-based architect Antonio Pio Saracino, and Founding Director of Public Programs at New York's High Line, Danya Sherman.
Architecture Book Club discusses the relationship between architecture and literature, bringing Gene Sherman together in conversation with cultural leader, author and SCCI Global Emissary, Dolla Merrillees.
Bricks and Budgets: The Architecture of Investment gathers Dr Stanley Quek (Greencliff), Nikos Kalogeropoulos (The Molonglo Group) and Jason Twill (City Makers Guild) to investigate the interdependence of architecture and commerce in development and urban design.
Architecture and Memory examines the role of architecture and design in memorialisation, including commemorative sites, debates surrounding official government-appointed memorials, and more. Guests speakers include Joe Agius (COX Architecture), David Neustein (Other Architects), and Professor Ido Bruno (Director, Israel Museum).
Form and Formative Years addresses ways in which children shape architectural practice – which in turn, shapes children's earliest and enduring engagements with the built world. This panel looks specifically at architecture's impact on children's formative years – including kindergartens, schools, youth centres, nurseries, playgrounds and childcare facilities. Dr Kate Bishop (UNSW) is joined by Sue Barnsley (Sue Barnsley Design Landscape Architects), Andrew Burns (Andrew Burns Architecture), Professor Linda Corkery (UNSW) and Camilla Block (Durbach Block Jaggers).
The Architecture of Human Happiness explores the role of architecture and design in producing the psychological conditions for happiness and mental wellbeing. Professor Cameron Bruhn (University of Queensland) leads Adam Haddow (SJB), George Livissianis (2019 Interior Design Awards Winner) and evidence-based colour expert, Dr Zena O'Connor, in a discussion ranging from the built environment to psychological thinking.
Architecture: The Picture of Health further explores the relationship between architecture and the wellness of the human body, with particular emphasis on the neuroaesthetic, medical, therapeutic and salutary concerns of contemporary architectural practice. This panel surveys wellbeing in all its forms, examining how architecture impacts the incidence, distribution and control of disease. Guests include Dr William Feuerman (UTS and Office Feuerman) and Luke Baxby (Deloitte) in conversation with Dolla Merrillees.
SCCI Architecture Film Commission: Each year via a competitive process, SCCI commissions students from the Australian Film, Television and Radio School (AFTRS) to produce a short film exploring a set theme in our Fashion and Architecture Hubs. For 2019, this theme is 'Accessing Architecture'. The winning documentary – The Caretakers – explores spiritual architectural spaces via spoken and visual interventions from three caretakers serving in an Islamic mosque, a Jewish synagogue and Buddhist temple. The core AFTRS team behind The Caretakers includes Kate Vinen (Director), Petra Leslie (Cinematographer) and Jayden Rathsam Hüa (Producer).
SCCI Architecture Hub 2019 venues include SCCI, The Museum of Sydney, Justice and Police Museum and The Eternity Playhouse.
Tickets for the SCCI Architecture Hub 2019 are available now via phone 02 8376 0850 or online scci.org.au
Full programme details to be announced in August.