Tapestry Design Prize for Architects 2021 winner announced
IMG LINK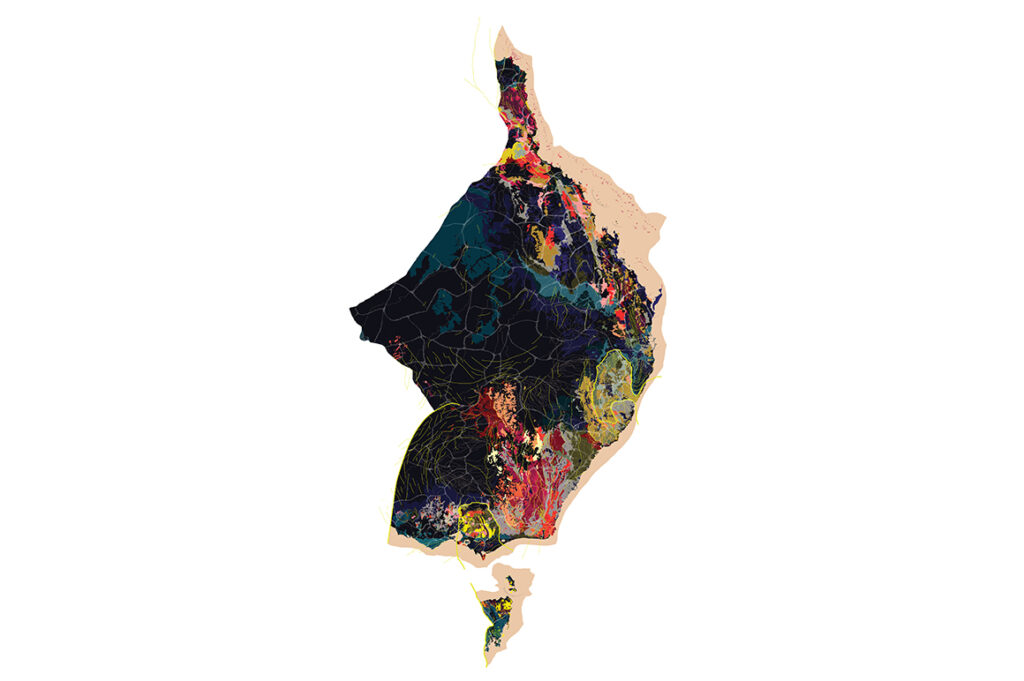 Ground Under Repair's winning entry Time Shouts is a provocative two-part floor and wall tapestry design that uses thoughtful research and mapping to reveal "the story of the period of time between present day to the breakup of the ancient Gondwanan continent".
Ground Under Repair is a Melbourne-based multidisciplinary design group comprising of Founding Director Emma Jackson (who is also the Program Manager of the Bachelor of Architectural Design at RMIT Architecture), Eilidh Ross, Riley Pelham-Thorman (RMIT, Masters students) and Abigail Li Shin Liew (RMIT, graduate).
'Time Shouts seeks to shift perceptions and values and is a beautiful and provocative entry that exemplifies and expands the agenda of the Tapestry Design Prize for Architects' says TDPA 2021 Jury Chair, Professor Cameron Bruhn.
The jury also awarded three high commendations to A Paradigm Shift by Abhinay H. Satam and Shristi D. Rawat (India); Apocalypse by Michael Chapman (Australia) and This Place by Madeleine Gallagher, Julie Lee, Georgina de Beaujeu and Lis de Vries (Australia).
The $10,000 Tapestry Design Prize for Architects 2021 offered applicants an unparalleled opportunity to consider the capacity by which contemporary tapestry can articulate, transform and enrich architectural space. Architects worldwide responded to three designs sites across the award-winning Phoenix Central Park, Sydney designed by John Wardle Architects and Durbach Block Jaggers.
The fifteen 2021 finalists and winner were selected by an expert judging panel comprising of Cameron Bruhn (chair), Brook Andrew, Diane Jones, Valerie Kirk, Dimmity Walker and John Wardle. 141 tapestry designs were received from 23 countries including; Australia, Austria, Bangladesh, Belgium, Bosnia, Canada, Croatia, France, India, Iran, Italy, Lebanon, Mexico, Netherlands, Russia, Serbia, Singapore, Spain, Sweden, Thailand, United Kingdom and United States of America.
An exhibition of the finalists' designs will be held at the Australian Tapestry Workshop until 12 November 2021.
Voting is open for the $1,000 People's Choice Award, which will close on 12 November 2021.
Register for the virtual event, explore the finalist designs and vote for your favourite at: tapestrydesignprize.org.au