Tranquility® Modular TMW Water-to-Water Series
IMG LINK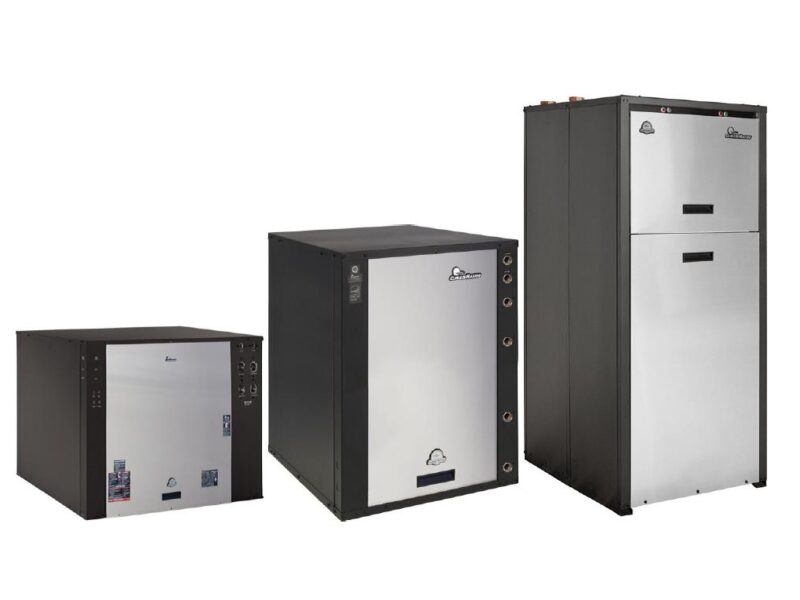 The Tranquility® Modular Water-to-Water (TMW) Series offers high efficiency and high capacity with advanced features, quiet operation and application flexibility at competitive prices. As ClimateMaster's largest water-to-water unit, the TMW Series can be used for radiant floor heating, chilled water for fan coils, industrial process control, potable hot water generation*, hot/chilled water for make-up air, and many other types of HVAC and industrial applications that require cost effective heated or chilled water.
The TMW Series offers high efficiencies, and also uses EarthPure® [HFC-410A] zero ozone depletion refrigerant, making it an extremely environmentally-friendly option. Available in 8.9 to 73.8 kW capacities, the TMW Series provides high capacity in a small footprint, which saves mechanical room space. The TMW has an extended range refrigerant circuit (refrigerant and water circuit insulation is standard), capable of ground loop (geothermal) applications as well as water loop (boiler-tower) applications. Standard features are many. Microprocessor controls, galvanized steel cabinet, polyester powder coat paint and TXV refrigerant metering device are just some of the features of the flexible TMW Series. The uniquely-designed coaxial heat exchangers are designed for many years of reliable operation. ClimateMaster's dual-isolated compressor mounting and heavy gauge steel cabinet helps make the TMW Series the quietest large capacity water-to-water unit on the market.
Advanced digital controls with Remote Service Sentinel and compressor "run" and "fault" LED
Small footprint with convenient front service access (TMW036 shown)
Copeland scroll compressors with dual-isolation mounting for quiet operation
TMW 170 & 340 offer exclusive single-side service access. Units may be installed side-by-side
Extended range insulated water/refrigerant circuit standard
Optional enhanced controls (DXM) & DDC Controllers
Two scroll compressors operate quietly, and provide part load operation for capacity control (120 and 340). Options such as DDC controls and UltraQuiet sound attenuation package allow customized design solutions. For ease of installation and service, access to the refrigeration service and electrical control panel is located at the front of the unit, allowing units to be installed side-by-side for large capacity applications (see below).
The TMW water-to-water units are designed to meet the challenges of today's HVAC demands with a high efficiency, high value solution.
Unit Features
Models 036 (8.9 kW) through 340 (73.8 kW)
Copeland scroll compressors
Dual independent refrigeration circuits (120 and 340)
Exclusive single side service access (front of unit) allows multiple units to be installed side-by-side for large capacity installations
Top water connections, staggered for ease of manifolding multiple units (170 and 340) • Heavy gauge galvanized steel construction with polyester powder coat paint and stainless steel front access panels • Insulated compressor compartment
Small footprint
TXV metering devices
Extended range (-5 to 45°C) capable
Microprocessor controls standard (optional DXM and/ or DDC controls)
LonWorks, BACnet, Modbus and Johnson N2 compatibility options for DDC controls
Compressor "run" and "fault" lights on the front of the cabinet (170 and 340)
Seven safeties standard
Options include UltraQuiet sound attenuation package and Cupro-Nickel heat exchanger(s)
*Requires field supplied secondary heat exchanger