Pholiota Unlocked
IMG LINK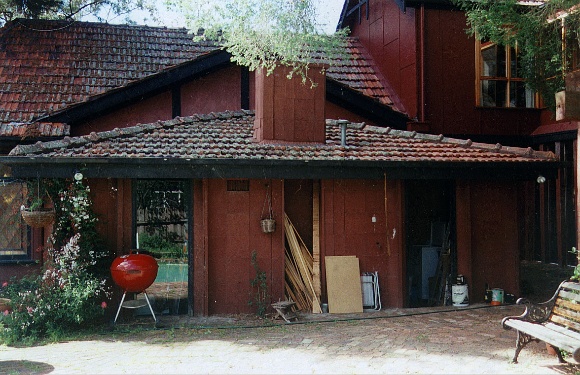 A full-scale replica of Walter Burley Griffin and Marian Mahony Griffin's cutting edge home is being constructed by students from the Melbourne School of Design as part of the Melbourne Festival's Cultural Collisions precinct at the University of Melbourne.
Pholiota, named after a type of mushroom for having 'sprung up overnight', was designed and constructed by the Griffins using their own ground-breaking 'Knitlock' bricks, a fast and cheap 'democratised' construction with no need for tradespeople.
Leading the project, Redmond Barry Distinguished Professor in the Faculty of Architecture, Building and Planning, Philip Goad said the exhibit would include an interactive virtual reality experience designed by Travis Cox and Master of Architecture student Linda Wang from the University's Microsoft Research Centre for Social Natural User Interfaces (SocialNUI).
"Virtual Reality headsets will allow visitors to experience three-dimensional vision of how Pholiota would look in a 21st century setting, incorporating an updated floor plan, furniture and fixtures," Professor Goad said.
"It shows we can be more efficient in how we live in the suburbs without dramatically increasing density. It also shows we should be able to design our apartments better.
"Festival goers will see and experience first hand how good design can improve the way we live in the suburbs without dramatically increasing density, how apartment design can be optimised and just why Marian Mahony Griffin famously described Pholiota as the 'most perfect and cheapest house in the empire'," he said.
Pholiota is part of Cultural Collisions, a campus-wide program featuring some of the University of Melbourne's most iconic historical sites and state-of-the-art technologies.
Ticketed events include Ethereal Eye, a grand musical homage to the architecture and ideas of Walter and Marian performed within the magnificent dining hall of Newman College designed by the Griffins themselves, and Musical Maverick, a concert to conjure the eccentric spirit and genius of Percy Grainger.
Exhibition:
When: 7th October – 23rd October
Where: Dulux Gallery, Ground Level, Melbourne School of Design, University of Melbourne
Entry is free.