MPavilion Unplugged: Energy Without Electricity program
IMG LINK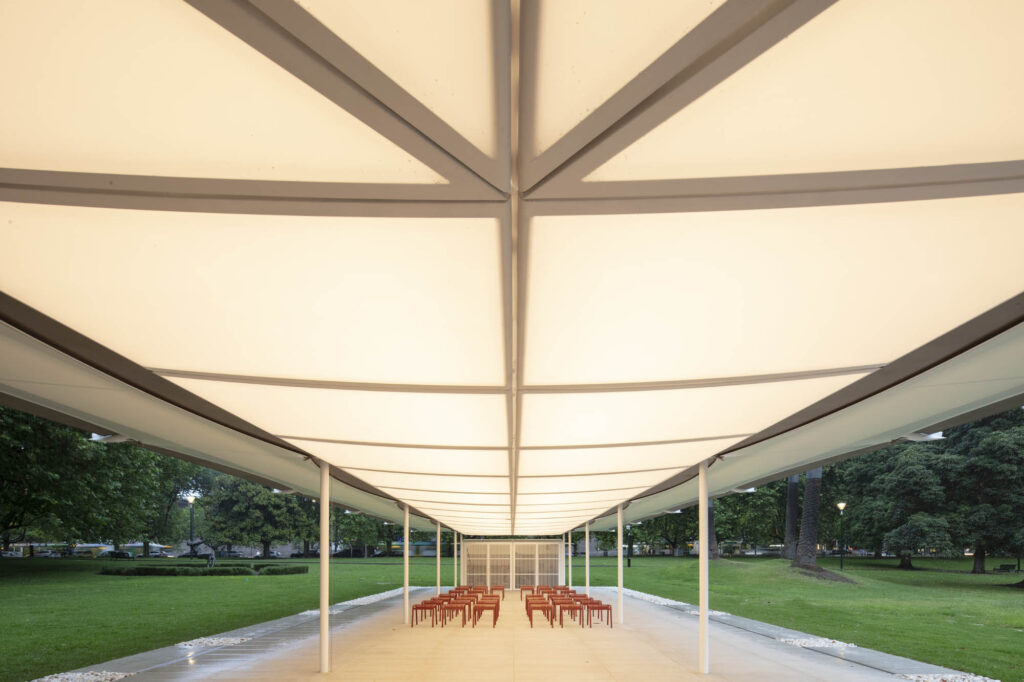 MPavilion an initiative of the Naomi Milgrom Foundation has announced its January program of free events highlighting off-the-grid living and kid-friendly holiday workshops. Inspired by MPavilion 2019 architect Glenn Murcutt AO, internationally renowned for his environmentally responsible designs, MPavilion's January programming responds to the theme 'Unplugged: Energy Without Electricity'. Featured collaborators include designer-illustrator Beci Orpin, Melbourne Theatre Company, SIGNAL, Hattie Molloy, Climate Emergency Cinema, Westside Circus and Rock Academy.
New this year, MPavilion will also present an Emerging Indigenous Writer-In-Residence Program to begin in January. Funded by The Copyright Agency's Cultural Fund, the writer will respond to MPavilion's program themes of Unplugged, Earth and Knowledge and will be mentored by MPavilion's 2018 Writer in Residence Maddee Clark. With details of the writer soon to be announced, the three-month residency is in partnership with The Lifted Brow.
A summer mix of talks, kid-friendly activities, workshops, performances and community projects include:
MPROJECT:
Special off-the-grid installation commissioned by MPavilion, Hattie X Honey Fingers: Botanical landscape + honeycomb vessels – a collaboration between florist artist Hattie Molloy and urban beekeeper Nic Dowse of Honey Fingers, takes stage on Thur 23 Jan, 6pm – 9pm. A sensory and harmonious meeting of all things nature, the community is invited to view the release of the bees in a releasing ceremony. A must see showcasing the integral and delicate equilibrium bees play in earth's natural ecosystem, as well as evoking feelings of life, growth and the pollination process of botanicals.
MKIDS:
Circus play in the park with Westside Circus on Tue 7 – Thur 9 Jan, 11.00am – 12.30pm and 1.30pm – 3.30pm, calls ages six – 13yrs to take part in a series of on the go circus activities including tumbling, juggling, diablo, acrobatics, gymnastics, and acrobalance.
Loose Parts Play on Fri 10 Jan, 10am – 4pm, invites kids to make a cubby house, a fort or a sculpture. Utilising recycled objects often discarded as junk, the Loose Parts Playground invites little ones to build and create, with the help of friendly and trained staff.
Rock Academy on Sat 11 Jan, 12pm – 5pm, will showcase rising rock stars as they hit the stage after a weeklong songwriting holiday workshop.
Gardening Crafts with Sage Garden from Mon 13 – Thu 16 Jan, 10am–12pm, invites kids to simply drop into these fun gardening workshops and get their hands dirty with a range of green-thumbed activities like planting and flower pressing.
Bug Blitz runs Sat 18 Jan, 10am – 12pm and Sun 19 Jan, 9.30am – 11.30am, and is all about bringing arts and science together and asking kids to question the ecology around them.
The 2019 Artist in Residence, Beci Orpin – who also designed the MPavilion 2019 Kiosk staff uniform in collaboration with The Social Studio – will host several events in summer, including Nature Crafts, Wed 22 Jan, 10am – 12pm and Pet Rocks, Thu 23 Jan, 10am – 12pm.
MMEETS:
Climate Emergency Cinema on Tue 14, Tue 21 and Tue 28 Jan, 8pm – 10pm, aligns with the Unplugged theme for January. Powered by bicycles, the Climate Emergency Cinema invites you to experience a series of outdoor films at MPavilion celebrating the urgent grassroots action around climate change.
Perfectly Imperfect Brush Calligraphy on Tue 14 Jan 5.30pm – 7.30pm organised by one of MPavilion's M_Curators, Henry Nguyen is a chance for all changes to learn the basics of brush calligraphy – a meditative practice that requires visitors to slow down and connect with their breathing and body.
Know Life Meditation Club with A-Space will take place on Wed 15 Jan, 7am – 7.45am, creating a space for people to slow down in a world that continues to bombard.
Meditate to Live Ambient Guitar on Sun 19 Jan, 3pm – 4pm, leading the guided mediation is Rosie Jean whose holistic approach is about inspiring full-body relaxation.
MTC at MPavilion on Mon 20 Jan, 6.15pm – 8pm, will be the second instalment where the audience experiences the development of new Australian plays as part of Melbourne Theatre Company's NEXT STAGE series.
AM:PM Running Club takes place throughout Jan on Tue 7, 21, 28, 6.30pm – 7.30pm, and brings together an eclectic crew of avid and friendly runners, united by their love of Melbourne and running.
Sunrise Yoga Sessions with Happy Melon each Tue on 14, 21, 28 Jan from 7.30am – 8.30am, set your intentions and your day and wake with accessible and relaxing classes available for all skill levels.
SIGNAL Curators present Little Art Fair featuring an array of handmade illustrations, ceramics, calligraphy and zines exploring the idea of 'my energy made this', on Wed 15 Jan, 3.30pm – 5.30pm; and SIGNAL Summer Cyphera freestyle dance battle celebrating diverse subcultural dance-forms on 17 Jan, 6pm – 9pm.
Side Project sessions with Madeleine Dore on Sun 19 Jan 12pm­­ – 3pm, designed to help starters with their big or smallside project or creative idea – a fun and focused way to find inspiration and motivation through peer-pressured productivity with like-minded creatives!
Green magazine open their unplugged series with Green Moves, (Re) Makes on Fri 31 Jan, 10am – 5pm and 6pm – 9pm; Green Moves Future Materials on Sat 1 Feb, 10am – 7pm; and on Sun 2 Feb, 10am – 3pm Urban Farming: Gardening and Permaculture.
MPAVILION BOOK CLUB:
Presented by The Wheeler Centre January's Book Club on the 16th, 7pm–8pm, will focus on shortlisted titles from the fiction category in the Victorian Premier's Literary Awards for 2020.
MTALKS:
'Wednesday Assembly' With Simon Winkler and Lauren Taylor, set for Wed 22 Jan, 6.15pm – 7.15pm, will bring together some special guests to tackle the theme of 'Unplugged: Energy Without Electricity' alongside our resident podcasters from 3RRR.
KIOSK and SUNSET SERIES:
Open every day from 9am to 4pm through MPavilion's season is the on-site licensed Kiosk. Sunset Series on Friday nights invites Melbourne's favourite DJs and musicians. The kiosk exclusively stocks Victorian food and beverages, including beer by SAMPLE Brewing, wine by ShadowFax, spirits by Four Pillars Gin, sodas by CAPI and coffee by Three Thousand Thieves. This year MPavilion's Kiosk recruitment has also involved collaboration with social enterprises Merchant Road and Scarf.
This year marks the sixth realisation of the MPavilion, which is initiated and commissioned by the Naomi Milgrom Foundation with support from the City of Melbourne, Victorian State Government through Creative Victoria and Development Victoria, ANZ and RACV. Looking to the themes ahead, Feb – Earth: A Place of Reconciliation, a Reconciliation of Place; and Mar – Knowledge: Shared Learning, Shared Power, will form the groundwork for events at MPavilion.
MPavilion is free to the public in the Queen Victoria Gardens until Sunday 22 March 2020.
For further information including program times, please visit mpavilion.org