MINI LIVING – INVERT is underway
IMG LINK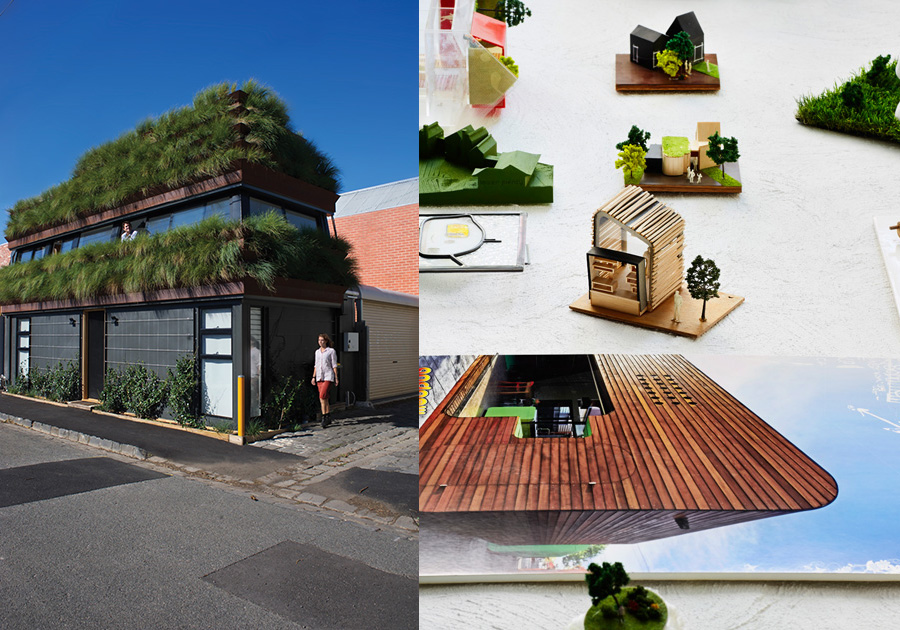 MINI LIVING – INVERT is an exhibition of designs in response to a brief for a residence for a family of four on a unique 6x10m site in Melbourne's CBD. Fourteen architects have responded enthusiastically to the brief and their designs and 3D models will be exhibited on the site from 4-8 October. Additionally the brief has been incorporated into the course for RMIT Master of Architecture Design Studio students.
The models will be suspended inside a glasshouse, alongside a botanical display by Loose Leaf. On October 5 and 6 the architects will share the inspiration behind their designs. These free talks will be held on site, bookings are now open for the limited seats. Videos of the talks will be posted after the event.
In the lead up to the exhibition, Green magazine has now commenced its online Mini Profiles series. These articles will review and celebrate the small-scale work of each of the architects involved in the MINI LIVING – INVERT exhibition.
Meanwhile, the RMIT Master of Architecture Design Studio students have commenced work on their models. Green magazine is thrilled to observe the talent of these emerging architects, one of whom will have their work shown at the MINI LIVING – INVERT site, the rest will be on exhibition at RMIT's Design Hub from 4-8 October.
Ian Nazareth, Associate Lecturer Architecture and Urban Design at RMIT reflected on the project "MINI LIVING-INVERT is an opportunity to interrogate the discourse of small scale living in dense inner urban conditions. It engages with broader issues around the sustainability, adaptability and vitality of the home – these are all critical concerns in the context of the contemporary city. Our interest in the project is to also explore the spatial, cultural and urban identity of residential architectural projects that recognises the domestic as a piece of citymaking."
Nazareth goes on to say, "Between established design practices and architecture students, MINI LIVING-INVERT is a unique platform and forum for the exchange of ideas through design propositions that speculate about an imminent future, revisiting every aspect of the domestic environment in order to point to a possible, counterfactual city."
Tamsin O'Neill, editor of Green Magazine, shared her enthusiasm, saying: "We are eagerly anticipating the response from this talented group of architects. In addition, the RMIT School of Architecture and Design Masters students have fully embraced the brief and we can't wait to see their models at the Design Hub show."
Each of the architecture practices participating in MINI LIVING-INVERT will talk about their designs over two nights on site at MINI LIVING-INVERT.
Thursday 5 October at 6pm: 
Archiblox
Austin Maynard Architects
Studio Edwards
Dreamer
Panovscott
Steffen Welsch Architects
RMIT architecture student
Friday 6 October at 6pm:
Ben Callery
David Luck Architecture
David Vernon Architect
Edition Office
Wolveridge Architects
Zen Architects
To book tickets to the talks:
Thursday Talks
Friday Talks
MINI LIVING – INVERT exhibition opening times
200 Little Collins Street, Melbourne VIC 3000. Enter via Russell Place, to access the exhibition space
Oct 4 10am – 5pm
Oct 5 10am – 5pm
Oct 6 10am – 5pm
Oct 7 10am – 5pm
Oct 8 10am – 4pm
mini.com.au/mini-news/mini-living-invert
About MINI LIVING.
MINI LIVING is an initiative launched in 2016 as a creative platform for MINI to develop architectural solutions for future urban living spaces. Last year, MINI LIVING showcased visionary concepts for shared and collaborative living/lifestyles/working in urban areas through the installations MINI LIVING – Do Disturb (at the Salone del Mobile in Milan) and MINI LIVING – Forests (at the London Design Festival). MINI LIVING – Breathe is the third installation created as part of the initiative. MINI will show a further MINI LIVING installation at A/D/O in New York in the second half of 2017.