Iconic Sydney Opera House Concert Hall takes home prize
IMG LINK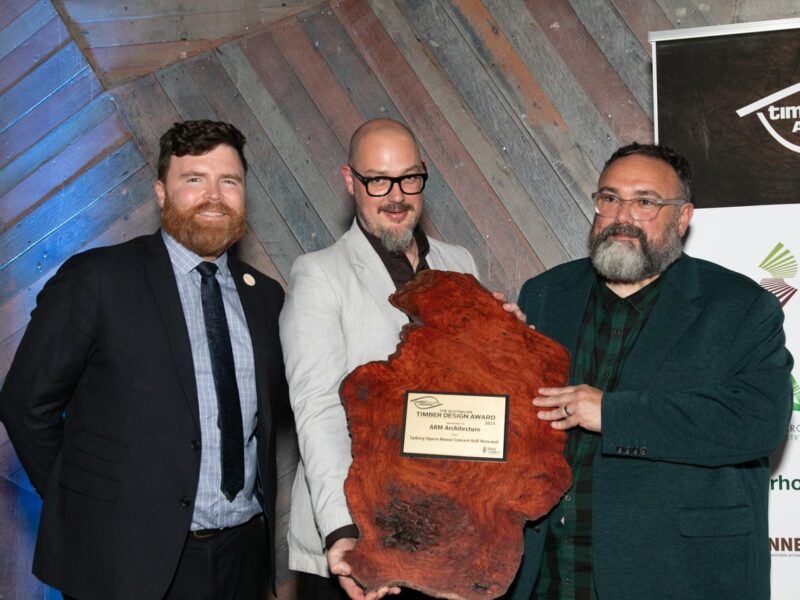 Last night's 24th annual Australian Timber Design Awards saw an Australian icon take the big win. The Sydney Opera House Concert Hall renewal project took home the awards for Interior Fit out – Commercial as well as the major award in the ceremony held last night, in Melbourne.
–
The prestigious awards were MCed by Australian comedian and architecture enthusiast, Tim Ross. Ross was a hit with his clever wit and impressed the crowd with his knowledge of the design and build industry.
The Awards are renowned in the design community across Australia for their aim to recognise outstanding projects and teams behind the ever-growing use of timber in the built environment.
"The best of the best in timber design are celebrated at this respected event," said Timber Development Association CEO, Andrew Dunn.
The Sydney Opera House is the most recognisable building in Australia and the project team did not disappoint with this impressive new fit out.
ARM Architecture employed symbolic interpretations of theatrical characteristics, drawing inspiration from shapes and patterns reminiscent of musical instruments, rhythms, and dance. These artistic elements served as a guiding influence for the interior design, manifesting in the elegant contours of various timber features. These include the sweeping ribbon staircases, the rhythmic timber cladding on the auditorium, as well as the design of the auditorium walls and balcony fronts.
The Australian Timber Design Award 2023 was presented by Kevin Peachey representing the Award's major sponsor, WoodSolutions.
"WoodSolutions is always proud to be involved in these awards. Our aim is to educate the design and build industry on working with timber and these projects exemplify the possibilities of what can be achieved with sustainable timber," said Kevin.
The team from ARM Architecture and architect, Adam Hannon, accepted their awards last night while judges read the many reasons this project deserved the highest recognition. "This project will be enjoyed by Australians for generations to come," stated one of the judges.
Other projects recognised at the Awards included the remarkable winner of the Recycled Timber category, Marramarra Shack by Leopold Banchini Architects and Cantilever Consulting Engineers and the always anticipated People's Choice Award winner, Boola Katitjin building at Murdoch University by Aurecon, Lyons Architects and Multiplex.
"It was inspiring to see how many extraordinary timber projects were submitted for this year's Awards. These design teams are putting a major focus on sustainability, and they are utilising timber and wood products in hugely innovative ways," said sponsor Kevin Peachey.