Inaugural Environmental Art and Design Prize exhibition opens
IMG LINK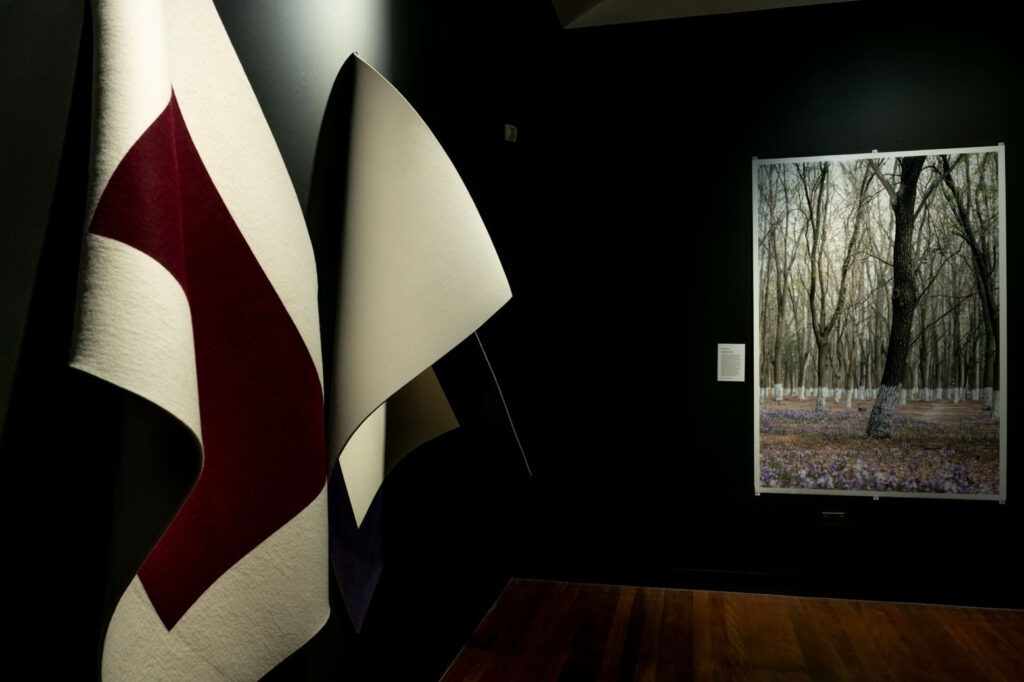 Northern Beaches Council has unveiled the inaugural exhibition of the Environmental Art and Design Prize. The exhibition of the 226 finalist works is presented across three arts venues on the Northern Beaches at Manly Art Gallery & Museum, Curl Curl Creative Space, and Mona Vale Pop Up Gallery, from 12 November until 12 December 2021, alongside a public program of talks with finalist artists.
Prize winners will be announced on Thursday 25 November by a judging panel comprised of internationally renowned Australian artist Euan Macleod; artist, designer, and curator Liane Rossler; and CEO and Artistic Director of the Australian Design Centre, Lisa Cahill.
The inaugural Prize celebrates contemporary art practices that are socially engaged, environmentally aware, and seek to enrich and contribute to positive change through creative practice. The finalist works have been selected across the categories of Wearable Design, Functional Design, Digital, Works on Paper and Photography, Ceramics and Small Sculpture, Painting, Interdisciplinary Collaboration, and separate young categories for creatives aged 7 – 12 and 13 – 18 years old.
Works engaged with contemporary art practice will be displayed at Manly Art Gallery & Museum, while wearable and functional design will be on show at Curl Curl Creative Space and young finalists presented at Mona Vale Pop Up Gallery.
A series of free public programs will offer visitors a chance to engage with finalist artists. Across two Sundays in November artists and designers will come together to discuss their works, inspirations, and creative processes. On November 21 at the Curl Curl Creative Space with artists and designers including Tracie Axton, Ruth Downes, Matthew Harkness, Gina Mastio, Elle Nelhams, Mark O'Ryan, and Gemma & Richard Rasdall and on 28 November at the Mona Vale Pop Up Gallery hear from young artist and designer finalists. On Sunday 5 December, textile artist Ivy Whiteman will share demonstrations and insights into making from nature and the ethics of an environmentally sensitive practice at the Curl Curl Creative Space.
Northern Beaches Mayor Michael Regan said: "We're thrilled to finally be able to display these exceptional works for the inaugural edition of the Environmental Art and Design Prize. It's inspiring to see how engaged Australian artists and designers are with the current environmental issues impacting our natural world and their ability to communicate this through their work. Now more than ever, after the last nearly four months in lockdown, we see the value of nature and the need to protect it."
The Prize is an inclusive and diverse exhibition that celebrates the vibrancy of the arts and design community within and beyond the Northern Beaches. The finalist works showcase artists and designers who have a keen interest and focus on the natural world, environmental renewal, regeneration, and the circular economy in their work.
Highlights across the Prize categories include:
Wearable Design: Finalist works in this category include Marina DeBris' Black Widow, made from found manmade waste from the beaches and streets of Sydney, and is an expression of grief for the estimated three billion animals killed or displaced by the bushfires of the Black Summer of 2019-20; Ruth Downes' face masks repurposed as a collar to reflect on the rise of single-use products during the past year due to COVID-19; Bethany Cordwell's Waste Age that takes recycled materials including IKEA bags and jumping castle tubing to highlight the excessive waste and rapid consumerism within the current fashion industry; and Ivy Whiteman's Why the sea is boiling hot channeling the spirit of joy and optimism present in the Northern Beaches' 80s surf culture for a line of clothing made from recycled materials and dyed with organic matter including food waste and plants.
Functional Design: Creative approaches and materials in this category comprise things we use in our everyday life, including Matthew Harkness's Bioplastic Waste Dustpan & Brush, a dustpan and brush created by a 3D printer; Marta Figueiredo's Stardust Lamp made from recycled resin in the designer's studio, which seeks to encourage other designers to reuse materials and cause a shift in the industry; Gemma Rasdall & Richard Rasdall's, Table Lamp, made from entirely recycled materials and which, once turned on, illuminates a map of Pittwater; and Jessie French's Algae bioplastic tableware made from Algal polymer derived from red macroalgae and is completely biodegradable.
Digital: Film and video works feature in this category including Zan Wimberley's Coal and Ice using schlieren imaging for flow visualisation to manipulate light in order to visualise Co2; Alyson Bell's Tree Spirits, filmed traveling through a landscape of blackened forest in the aftermath of the NSW South Coast bushfires in 2020; Andrew Kaineder's film Mourning Country, following Budawang Elder Noel Butler after the loss of his home and Aboriginal culture centre in the Currowan Fire; and Shoufay Derz's, Ritual for the death of the Reef: Collective shroud, reflecting on the fate of the Great Barrier Reef.
Works on Paper and Photography: Works in this category look at our relationship to nature, including Leila Jeffreys' The wound is the place where the light enters – Bleeding heart dove, reflecting on how nature shows us the transformation that can come from pain and lead us towards change; Kai Wasikowski's The Subjunctive Mood #4 taken during a trip to China and layered with text from Google Translate to explore the history of national parks and settler conservation movements; Sadhbha Cockburn's Sovereignty cannot be seeded which features plantable postcards made from handmade paper embedded with wattle seeds considering the effects of colonisation on the natural flora of Sydney; and Jo Neville's Giant bespoke Paper Waterlilies, created for set design with a circular design approach.
Ceramics and Small Sculpture: Works in this category feature ceramics reflecting on environmental themes as well as sculptures using natural materials, including Charlie Lawler and Wona Bae's Take a breath made from the cleansing and detoxifying material of charcoal; Louis Pratt's coal sculpture Elemental Rising condemning the burning of fossil fuels; and Catriona Pollard's Reservoir of Hope using crushed copper house guttering placed into a bushfire, wood foraged from a bushfire and recycled electrical copper wire, highlighting how even in times of crisis there is always hope.
Painting: Finalists works reflect on the devastating bushfires of 2019/2020, with Laura Jones' Burnt Hakea Dactyloides, taking inspiration from the bushfire affected land around her where she grew up in Kurrajong and displaying the resilience of Australian flora; while Greg Weight's Birdwood sunrise takes a photograph of bushland taken prior to the area being devastated and layers it with paint to pay homage to the beauty and fragility of the Australian wilderness.
Interdisciplinary Collaboration: Finalists include emerging Trawlwoolway artist Edwina Green's Bull Kelp Side Bags, re-creating and interpreting the tradition of her ancestors, of making bull kelp water carriers; Jenny Pollak's video Heft, made in response to Covid-19 and the restrictions imposed by physical distancing; and the Kandos School of Cultural Adaptation's An artist, a farmer and a scientist walk into a Bar…., created following a series of ambitious collaborations with farmers, scientists, Aboriginal knowledge-holders and rural innovators in regional NSW to explore how arts-informed collaborations can inspire fresh approaches to environmental challenges faced today.
Youth: Split into two categories for entrants aged 7 – 12 and 13 – 18, the works in this category include Abelia Chung's Coronavirus under the lens demonstrating the effects of the environment on human health with the collaboration of art and science; and Jemima Grimmer's Reef; Before and After, highlighting the anxiety younger generations feel in the face of the climate crisis.
The exhibition will be open across the three venues from Tuesday – Sunday, 10 am – 5 pm, across the exhibition period.