Iconic Keith Haring Water Wall mural to be reimagined by the NGV
IMG LINK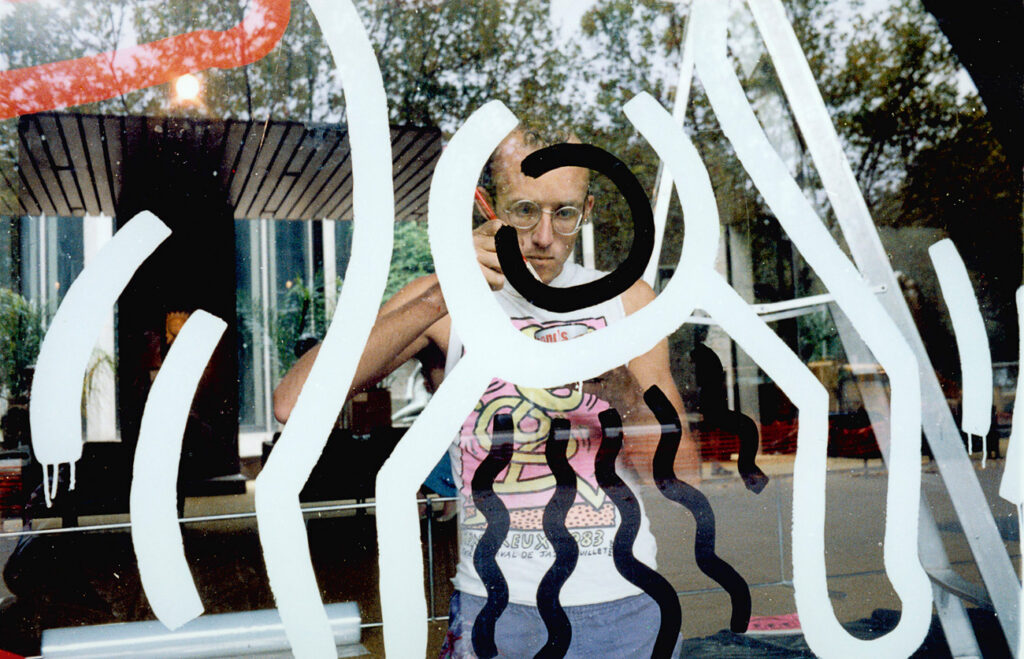 Celebrating 35 years since Keith Haring painted a temporary mural on NGV's Water Wall – and coinciding with the world-exclusive exhibition Keith Haring | Jean-Michel Basquiat: Crossing Lines – the NGV will reimagine the untitled 1984 mural with a striking vinyl graphic displayed at the site of the original artwork from 22 November 2019.
Based on Haring's original design, the vinyl graphic will pay tribute to a significant moment in Melbourne's cultural history, when the acclaimed international artist was invited to paint a temporary mural on the iconic city landmark.
In 1984, painting at a staggering scale without any formal preparation, Haring chose not to rely on a template or sketch to realise his creative vision. Working over two days, he used a cherry picker to paint a mural comprised of three colours beginning with white before adding red then black. Covering the glass panels of the Water Wall with a dynamic, interwoven drawing consisting of numerous symbols from his distinct visual vocabulary, the mural incorporated a crawling baby, a mushroom cloud, a dolphin and a snake.
"When Keith Haring made his only visit to Australia in 1984, he broke new ground by becoming the first artist to create an artwork on the NGV Water Wall," said Tony Ellwood AM, Director, National Gallery of Victoria. "Thirty-five years later, it is a fitting tribute for the NGV to celebrate his enduring cultural legacy through this homage to his work."
When interviewed by local media about the mural's design, Haring offered an intriguing description: "It's a series of images about life and things which threaten life," he said. "Maybe it's a kind of play on good and evil, but I prefer people to read it however they want to."
The NGV's tribute to Haring will be displayed alongside Keith Haring | Jean-Michel Basquiat: Crossing Lines, a world-exclusive exhibition presenting the work of two of the most significant and influential artists of the late twentieth century, from 1 December 2019. Offering new and fascinating insights into the artists' unique visual languages, the exhibition also reveals – for the first time – the many intersections between Haring and Basquiat's lives, practices and ideas.
Crossing Lines surveys Haring and Basquiat's tragically short, yet prolific careers across more than 200 artworks, including works created in public spaces, paintings, sculptures, objects, works on paper, photographs and more. Providing local and international audiences with a comprehensive insight into each artist's career, the exhibition explores Haring and Basquiat's distinctive visual language of signs, symbols and words, which they used to convey strong social and political messages.
The NGV's tribute to Keith Haring will be on display at NGV International from 22 November 2019 – 13 April 2020.
 Keith Haring | Jean-Michel Basquiat: Crossing Lines will be exhibited from 1 December 2019 – 13 April 2020 at NGV International, 180 St Kilda Road, Melbourne, Australia. Tickets and information are available from the NGV website NGV.MELBOURNE.