Environmental Film Festival Australia launches 2018 Program
IMG LINK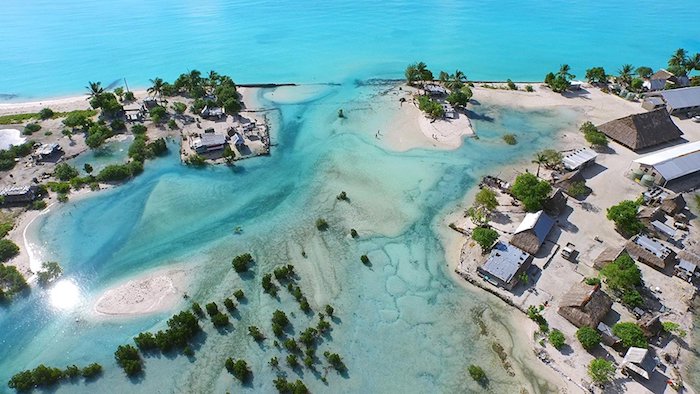 Melbourne will showcase the best films from around the world focusing on environmental issues, impacts, challenges and solutions, with the Environmental Film Festival Australia (EFFA) announcing its 2018 program.
From a record 580 films submitted for selection in this year's festival, a total of 43 films have been chosen from 16 countries, including a number of Australian feature and short films.
"The volume and calibre of films submitted for EFFA 2018 highlight new perspectives and world-wide growth in environmental filmmaking, and we're delighted to bring the best films from home and abroad to Melbourne audiences," EFFA co-director Chris Gerbing said.
"The theme of this year's festival is 'Face the Films', which calls for the community to face the facts around climate change, face the future impacts of the decisions we make today, and face the films which are capturing the situation unfolding around the world."
This year's films focus on climate change, Indigenous voices, land conservation and animal rights.
Highlights
– Following an expedition to save one of the world's last remaining wildlife habitats from human interference, National Geographic's Into the Okavango is EFFA's opening night film. This Australian premiere brings personal perspectives to global environmental challenges, proving a triumphant journey in the face of adversity.
– Fresh from its international premiere at Sundance Film Festival, Anote's Ark follows Anote's international campaign to highlight the dire impact of rising sea levels on Kiribati, with two of the Pacific nation's atolls already submerged, and residents moving to neighbouring countries in a bid for survival. Screening will be followed by an In Conversation with the former Kiribati President, now acclaimed environmental campaigner, Anote Tong.
– Largely filmed in New Zealand, Living the Change: Inspiring Stories for a Sustainable Future, features global experts offering local solutions to reducing environmental impacts via small, everyday changes. Features post-screening Q&A with co-director, Melbourne filmmaker Jordan Osmond.
– Closer to home, As Worlds Divide sees filmmaker Rob Henry move from Melbourne to the Indonesian islands of Mentawai, fully immersing himself in the Indigenous culture over a period of eight years – an antidote to the 'rat race' he left behind. Screening will be followed by a Q&A with Henry, sharing the experience of his two very different lives.
Themes in EFFA:
The impacts of industrial pollution
• The Devil We Know – highlights the devastation caused by chemicals used in Teflon – today found in the bloodstream
of 99 per cent of all Americans
• Welcome to Sodom immerses us in the lives of those working at one of the world's largest e-waste dumps, a place so damaged it appears to be a post-apocalyptic world.
Personal stories of courage, hope, desperation and despair
•The Reluctant Radical charts an impassioned battle by American activist Ken Ward to challenge the fossil fuel industry at great personal cost
• Dark Eden captures the high price people pay to work at one of the world's largest oil reserves, the Athabasca Oil Sands, despite the financial incentives.
Sustainability
•The Experimental City offers a visionary outlook from scientist Althestan Spilhaus' 1960s America – a story of ambitious sustainability plans quashed by sceptical politicians, scientists and members of the public, offering a lesson from the past which is prescient today.
Animal rights and the threat to natural habitats
• When Lambs Become Lions – the toll of ivory hunting on those who pursue and protect against this outlawed practice
• Bird Of Prey follows a 30-year campaign to save the Philippine Eagle from extinction
• The Milk System examines the global forces behind Europe's pursuit of industrial food production, and the impact on agricultural, human and animal health.
The beauty in untouched landscapes
• The Ancient Woods – free of narrative, capturing animals in one of Lithuania's last remaining old growth forests
• Sleep Has Her House – filmed entirely on an iPhone, this feature reminds us to enjoy the stillness of the forest in the dark. Presented as a 'chill out' session, this will include a live musical accompaniment by classically trained pianist and composer Rose Riebl.
Virtual reality films
• Melting Ice – explores Greenland's glacial ice sheets
• Fire – journeys into California's wildfires
• Feast – ventures into the heart of Brazil's cattle farms which threaten the Amazon
• Famine – is set in a crowded refugee camp, where climate change has destroyed once-fertile lands.
The impact of climate change
• The Panguna Syndrome – charts the continuing fallout of Papua New Guinea's Panguna Mine and the Bougainville Crisis
• Stella Polaris Ulloriarsuaq – captures Greenland's ice sheets literally melting before our eyes, and the colonialist forces capitalising on changes to Indigenous communities as a result of this.
Australian shorts, which will screen ahead of most feature films, also form a highlight of this year's festival, including Water is Life which documents Aboriginal communities fighting against fracking plans in the Northern Territory. A series of experimental films and international short films round out the festival's program, exploring everything from 'plastic kingdoms' (The Fourth Kingdom) to the lives of whales (Blau), along with EFFA's Education Program, featuring The Clean Bin Project for primary school students, and Inventing Tomorrow for secondary students.
"The past 12 months have seen unprecedented global and local movements and campaigns to greater protect our
environment, starting with changing our everyday behaviours, such as banning single-use plastic bags," said EFFA co-director Chris Gerbing. "This is exactly the action EFFA encourages, and this year we'll host a number of panel discussions with leading experts to encourage everyone to make changes – big and small – to help reduce their environmental impact."
"As one of our most ambitious festivals yet, I encourage everyone – from committed activists to the 'enviro-curious' – to come to EFFA. It's a welcoming festival which provides a range of films and experiences to engage with environmental issues, and spark a conversation about the action needed to help curb the alarming trends we are seeing in environmental change around the world."
Environmental Film Festival Australia 2018 – October 11-19
ACMI and Palace Westgarth Cinema
Bookings and program: effa.org.au
Faceboook @EnviroFilmFestAus | Insta @envirofilmfest | Twitter EFFA_AUS