Dan Palmer guiding shared garden spaces at East Brunswick Village
IMG LINK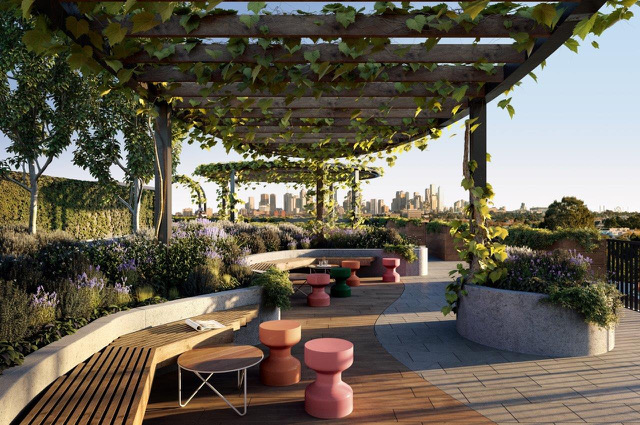 Internationally respected permaculture designer and Very Edible Gardens (VEG) co-founder Dan Palmer is the consultant guiding the creation of the shared garden spaces throughout East Brunswick Village (EBV).
The property development has enlisted the expertise of Melbourne's most talented designers, builders and creatives to help realise the vision behind the project's commitment to create a new village to call home, which boasts an impressive 7.5-star energy rating.
Palmer's vision for EBV takes full creative control over the project's plan to create vast green spaces, featuring communal areas for relaxing, dining, and entertaining, as well as producing vegetables, fruits, and honey.
First launching VEG at Melbourne's Sustainable Living Festival in 2009, Palmer's foray into the world of permaculture design came after completing a PhD in psychology and then teaching and writing philosophy in the United States. Under the tutelage of Australian father of permaculture Bill Mollison, Palmer has since developed tangible practices that directly address concerns over a future with less resources.
Says Palmer: "I have never worked with the apartment development sector before and I have never been interested." For Palmer, partnering with Banco Group was an opportunity to showcase a unique approach to creating urban green spaces that he would like to see more widely adopted. "Rather than wincing at yet more generic, low-quality green spaces," says Palmer, "I decided to get involved and to show that something so much better is possible."
Palmer's approach aims at garden spaces that not only look great in photos, but feel great to be in. The key, stresses Palmer, is carefully adapting the layouts and plant selections to fit the unique patterns of the site and its users. Palmer also brings a strong sustainability focus, making many of the plants food producing, using water-efficient planters, harvesting and reusing rainwater, and recycling nutrients with on-site composting.
Palmer has worked closely with Banco Group's director Mario Lo Giudice in making EBV's communal garden spaces as comfortable and functional as possible. Years of planning have gone into considering how residents will flow between spaces, and how external conditions will impact design.
Following Palmer's signature style, expect a flowing mosaic of evergreen, deciduous and edible plants. EBV will have a full-time caretaker tending to the needs of the village, but the edible communal garden will be run by its residents. Palmer and his team will personally oversee the success of the green spaces during the first 12 months of its conception until they are established.
"I'm on a mission for the work I am doing to start happening all over Australia," says Palmer. "I want other developers to see what we are achieving at EBV and start reconsidering their approach where green spaces are designed in this way from the beginning rather than being plonked on as an afterthought."
There will be over 2300-square-metres of communal spaces, a village square, rooftop gardens and podiums, urban streetscapes and more at EBV for residents and the wider Moreland community to use.