Carbon neutral indoor ski slope proposed for Sydney
IMG LINK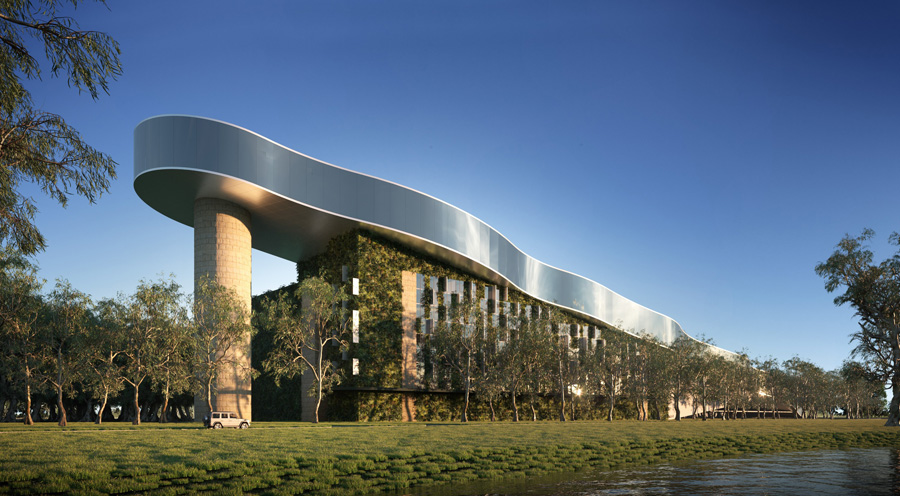 Sydney-based sustainable architecture practice Environa Studio has unveiled plans for a first-of-its-kind carbon neutral winter sports complex in Sydney featuring an indoor ski slope of 'world top 10' proportions.
Created for Sydney developer Peter Magnisalis on a 2.35 hectare riverside site in Penrith, Winter Sports World has been designed to incorporate a diverse raft of year-round winter-sports facilities including:
A 300 metre indoor downhill ski slope for intermediate to advanced skiers;
An 80 metre long play slope for children and novices;
An ice skating rink;
Ice and rock climbing areas; and
Winter fitness, gymnasium and altitude training operations.
Architect Tone Wheeler said the $200 million centre would also accommodate a 170-plus room hotel and a range of cafes, restaurants and bars in a building designed to set new environmental benchmarks for a structure of its kind.
"Being the first of its kind in Australia, with one of the 10 longest indoor ski runs in the world, and ambitions to become one for the top 10 high performance indoor ski facilities internationally, we've worked hard to design a building that reinvents this typology for the better," Wheeler says.
"We've aimed for both statement architecture that enhances its setting and user experience – rather than the industrial-style shopping-centre-cum-indoor-ski-slopes of yesterday – and to achieve a complex that defies expectations by being carbon neutral in its operations."
"The winter use areas have been designed essentially as a giant 'esky', with multi-layered levels of insulation and few if any windows, with a high efficiency mechanical plant making both chilled air and snow or ice."
"The whole operation, including the hotel, will run from a 1.2 megawatt power supply of roof-mounted photovoltaic solar cells – the equivalent of 220 homes with PV panels – run through an on-site battery storage facility."
Mr Magnisalis said WSW is expected to generate around 896 direct and indirect jobs during construction and $145 million to the local economy. When operational, it would generate around 759 direct and indirect jobs and contribute around $74.9 million to the NSW economy per annum, attracting 231 000 visitors by 2025.
Lodging a planning proposal with Penrith City Council, Mr Magnisalis said Winter Sports World (WSW) would help strengthen Penrith's claim as the 'Adventure Capital of NSW', with the centre incorporating a diverse raft of year-round winter-sports facilities appealing to both local Western Sydney residents and domestic and international tourists.
"Underpinning this concept is an indoor ski centre with a ski slope designed to be one of the top 10 high performance training centres in the world," Mr Magnisalis. "To achieve this, the building must be designed to a certain length and height, which we've done – creating a dramatic and architecturally significant addition to the precinct, and city generally."
Construction is expected to be completed by 2020 and the venue open by 2021.
Once open, Mr Magnisalis said WSW can provide a year-round training facility for winter sports – alpine skiing, freeboard and snowboard – benefiting all participants, from those learning to ski before hitting the slopes to those training consistently throughout the year at elite or Olympic level.
"Its accessibility reduces the need for winter sports amateurs and professionals to travel offshore to train or play. And the environment is controlled, allowing users to enjoy weather and snow conditions for optimum fun and precision elite training. As a result, it has the potential to grow the sport nationally, and improve the performance and international standing of our top athletes."
The centre is located within the Riverlink Precinct bounded by the eastern bank of the Nepean River to the west, Mulgoa Road to the east, the M4 Motorway to the south and the Western Railway line to the north.
WSW has partnered with former Winter Olympian (GBR) and one of Australia's best known alpine ski coaches, Stephen Edwards, who will act as the centre's Performance Director.
Mr Edwards said: "This facility will change the performance of winter sports in Australia, especially with respect to all disciplines. Being able to train on an all-year-round facility will allow athletes to focus on their skills and technique in an environment where all weather conditions are controlled. We can organise precise training at days and times we want."
"It will also encourage more participation into the sport, helping us develop our grassroots athletes and grow a stronger, broader team of potential international competitors. We currently spend half the year overseas. WSW would allow us to prepare for competitions at home, reducing travel time and increasing training time in stable conditions."
Design Rationale
WSW has been designed as a dramatically elongated sloping wedge. Fifty-four metres at its eastern elevation to accommodate the 300-metre ski run, it ribbons and drops to eight metres at its western elevation facing the Nepean River. Balancing and anchoring this horizontal form will be a round tower cum lift lobby supporting the building's highest point and acting as the main entry drop-off zone.
All WSW activities and hotel have been grouped to the east. At ground level, an open 'internal street' physically separates the hotel and conference facilities to the north and WSW activities to the south, with a full height/width viewing window to the west offering unimpeded views of the beginners' slope/snow play area.
The round tower provides a large open area at ground level and reduces the building's visual volume at its upper levels, in contrast to traditional indoor ski complexes that present as solid cliffs at this point. The tower also acts as a wayfaring element visible from a distance, while acting as a strong vertical element for an essentially long horizontal building.
The ski slopes have no external glazing to assist with thermal performance and to create a controlled internal atmosphere. By contrast, the hotel and other facilities have maximum external glazing, particularly to the north for sun and views.