Brock Commons Tallwood House is a tribute to timber
IMG LINK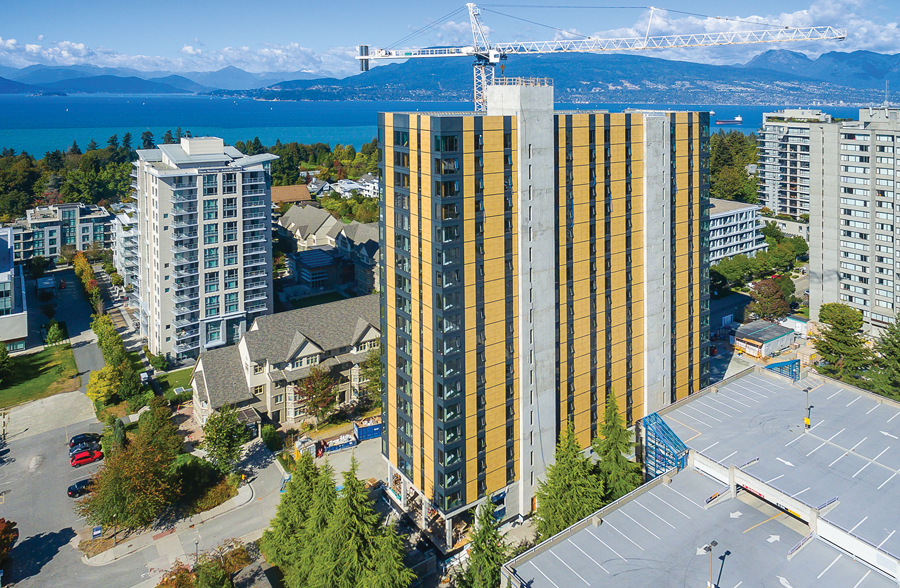 Architect Russell Acton believes in timber. He believes in it so much that he designed the tallest contemporary mass wood building in the world, the Brock Commons Tallwood House. At 18-stories-high, the Canadian student residence has won the title previously held by Melbourne's own Forte building in the Docklands.
Last year, the Australian National Construction Code lifted heavy restrictions on wood-framed buildings, which can now be up to eight stories high. It is estimated that medium-density housing built from wood could translate into significant savings in construction costs.
Beyond soothing the back pockets of developers, timber has consistently proven to be more environmentally sustainable than other standard building materials. Now that the Code has been relaxed, there is greater potential for timber construction in Australia. And for inspiration, we should look no further than Brock Commons.
The Brock Commons wood structure was completed at the rate of two floors a week, approximately four months faster than conventional construction methods. In fact, the build was so environmentally efficient that it equated to taking 500 cars off the road for one year.
Russell took some time during his recent tour of Australia to explain to us his experience creating Brock Commons and why more architects should consider wood in their future projects.
What drew you to the Brock Commons project?
First, we saw this opportunity that Brock Commons could be a genuine game-changer in the industry, that would lead to a breakthrough in what I like to call "extraordinarily ordinary" mass wood buildings for the masses. We felt this structural system could translate well into lower-cost residential, mid-range projects and multi-family housing. We felt that was an area that wasn't really being focused on for this mass wood structure.
What are your favourite elements of the project?
Because of the structural system and the programmatic use of the building, it really lent itself to a very simple, straightforward floor plan. It's just basically a big rectangle. I really appreciated the pure simplicity of that. When we extruded it up into a three-dimensional mass, it was like a tight jewel box.
You share a longstanding personal design relationship with timber. Why should architects consider using this material in their own designs?
The material is prefabricated. That enables a very fast and accurate construction process. It kind of snaps together. Because it's so fast and it's built with wood, it's quiet. [Construction noise consists of] basically the whirring sound of a crane and then the sound of screw guns as they stitch the cross laminated timber (CLT) panels together.
Because of the material and the system there's very little waste present. It's really only the wrapping materials for the CLT panels, whereas in a concrete building there's a constant onslaught of trucks that come to the site. A similar concrete structure would require 30 trucks per week to drive into the neighbourhood. For this mass wood structure, it was just eight.
The prefabricated façade that encloses the building goes up at the same time. Because of this enclosure of the facade, all of the noise of subsequent construction activity is contained within the building. The neighbours aren't really hearing anything.
What do you think are the greatest benefits of timber?
It's sustainable and it's renewable. For all of the wood used out at Brock Commons, about 22,000 metric tonnes … well, Canadian and US forests replenish that wood in just six minutes. The other great benefit is that wood sequesters carbon. Over 24,000 metric tonnes of greenhouse gas emissions were avoided at Brock Commons.
The construction of the Brock Commons' wood structure was remarkably efficient. What technology was used in this process?
[In] the main piece of structure, there's glue-laminated columns and cross-laminated timber panels. We used a system that hadn't been used in such an extent before. It's called a two-way spanning system. We didn't need any beams to support the CLT slab, which enabled the mechanical and electrical systems to not have to dive under and back above beams, or for structural engineers to meet the challenge of coring through the beams.
Those were the two big all-stars. The third one was the idea of the prefabricated panel. It's basically 90 per cent finished exterior facade. On the inside, all that has to be done is a bit of insulation added and drywall to finish it off.
The Brock Commons Tallwood House is a striking example of green architecture. Do you think that timber buildings are the way of the future?
I really, truly do. After you experience it, it's like you've seen the way. It's clean, fast and accurate. I think it will be welcomed as a different means of construction in neighbourhoods that are sensitive to noise and traffic.
Congratulations for breaking the world record for tallest timber engineered building. Do you intend to design an even taller project in future?
In British Columbia, it took a special approval from the building authority. I suspect that they're not going to process many, if any at all until they change the building code which is just three years away. It'll give them an opportunity to see Brock Commons completed. I'll welcome the opportunity but I suspect it'll be a couple of years off. The authorities really need to catch up with this fantastic, sustainable initiative in construction.