2021 NSW Australian Institute of Landscape Architecture Awards winners
IMG LINK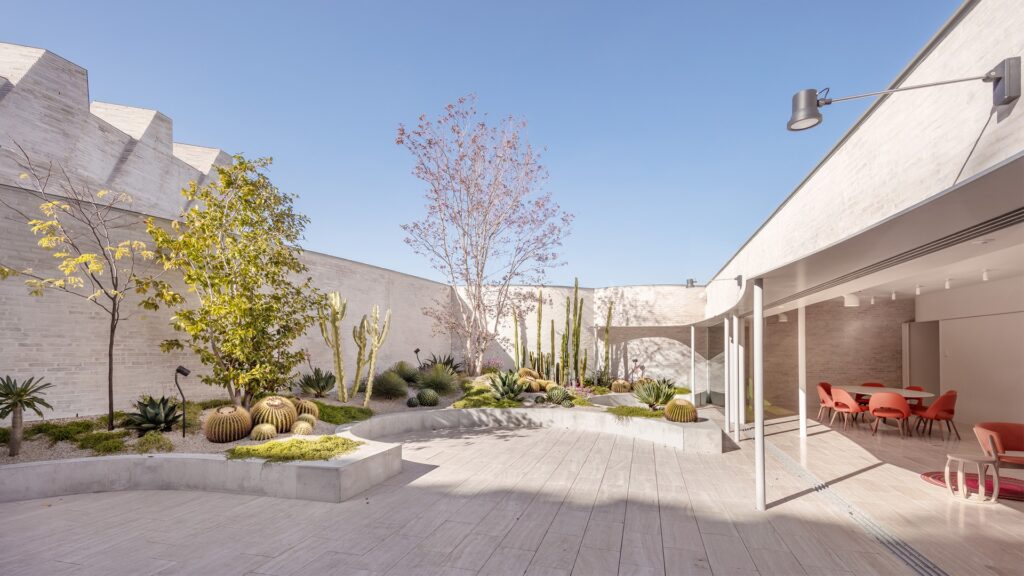 Winners of the 2021 NSW Australian Institute of Landscape Architecture Awards were announced on Wednesday, June 9, with lessons for even the smallest home garden.
Design enthusiast Tim Ross revealed the most outstanding projects in the state across 16 categories including Urban Design, Infrastructure, Play Spaces, Health and Education Landscape, Garden and Community Contribution in the live streamed event.
Joshua French, Jury Chair of the 2021 NSW Australian Institute of Landscape Architecture Awards said there was much to be learned from these projects after a year where, for many, their home and garden was their whole world.
"Whether they are public or private projects, places for people for respite or family life are at the heart of many of this year's projects," he said.
French said last year's pandemic and the neighbourhood lockdowns triggered focused unprecedented attention on the need for exemplary outdoor spaces.
"Everyone started going to their local park or walking track and those places became really important," French said. "We felt more connected to our local park and open space like never before."
The Garden category takes in private as well as public spaces. The judges said this year's winner, by 360 Degrees Landscape Architects is The Phoenix Gallery. It is part of the White Rabbit Gallery at Chippendale in inner Sydney. Judges said it demonstrated the importance of treating garden and built structures as one.
"(It) provides an interwoven building and landscape dedicated to art, performance, nature and culture," the judges said. "(This is) a beautiful example of where landscape and architecture are seamlessly interlaced, where it is impossible to identify where one ends and the other begins."
While private gardens need to fit the brief for a handful of individuals, public spaces require a broader response to cater to all ages, levels of ability and even mental wellness. French said we all have higher expectations of what our green spaces should provide, and the landscape architecture profession has responded accordingly.
"The industry rose to the challenge exceptionally well in terms of being agile and innovative and really moving with what the community was after," French said. "The consideration of how to configure the space and the quality of the space created is crucial. It is about connectivity and how we feel in those spaces — comfort, shade and the social arrangement."
He said the same principles apply to designing a garden at home.
"People these days are more lifestyle focussed and that includes at home," he said. "They are more conscious of making their home a more comfortable place to live and considering and investing in their outdoor spaces the same way they would invest in a home extension'."
Winners of the Play Spaces were particularly useful for families looking to create an environment that could be shared and enjoyed by everyone.
The Sales Ring Playground by Arcadia Landscape Architecture and Summerland Farm by Plummer & Smith were among winners in the Play Spaces category. The judges said Summerland Farm was a great example of a project that integrated seamlessly into a broader landscape.
"The play space at Summerland Farm fits seamlessly into the broader landscape context of the Park and its regional setting," the judges said. "The play space uses exquisite materials and detailing and focuses on non-prescriptive imagination-based play. Play elements are woven around canopy trees, adding to the mystique and beauty of the play experience while providing shade and a connection to nature."
By responding thoughtfully to the existing landscape setting, from mature trees, to changes in level or where the sun is, French said the home garden can be every bit as functional, beautiful and enjoyable as the biggest budget public space.
"You are seeing the same things happening across small and big budgets. We are seeing playgrounds being carefully designed and built around mature trees and next to existing creek lines because it adds so much to the experience," he said. "When you get a designer involved, you get a better outcome."
The winners were announced at a virtual launch event hosted by design enthusiast Tim Ross on Wednesday, 9th June at 5pm.
AWARD OF EXCELLENCE WINNERS
Landscape Planning — Hornsby Biodiversity Conservation Strategy
Gardens — The Phoenix Gallery
Research, Policy & Communications — Public Space Ideas Competition
Infrastructure — CBD and South East Light Rail — NSW
Play Spaces — The Sales Ring Playground
Health and Education Landscape — Westmead Hospital Redevelopment
Tourism — Summerland Farm
Civic Landscape — Notts Avenue Safety Upgrade
Urban Design — Batemans Bay Waterfront Master Plan and Activation Strategy
Landscape Planning
AWARD OF EXCELLENCE Hornsby Biodiversity Conservation Strategy by Rhizome
LANDSCAPE ARCHITECTURE AWARDS Paul Keating Park Masterplan by McGregor Coxall
Gardens
AWARD OF EXCELLENCE The Phoenix Gallery by 360 Degrees Landscape Architects
Research, Policy & Communications
AWARD OF EXCELLENCE Public Space Ideas Competition 2020 by AECOM NSW / Committee for Sydney / Department of Planning, Industry and Environment
Infrastructure
AWARD OF EXCELLENCE CBD and South East Light Rail – NSW by ASPECT Studios with Grimshaw and the City of Sydney, on behalf of Transport for NSW, supported by Randwick City Council
LANDSCAPE ARCHITECTURE AWARD Pacific Highway Upgrade by Centre for Urban Design Transport for NSW and all of its Landscape Architecture Partners
LANDSCAPE ARCHITECTURE AWARD Elara Linear Park (TC02) by Paterson Design Studio
Cultural Heritage
LANDSCAPE ARCHITECTURE AWARD Red Point, Port Kembla by Taylor Brammer Landscape Architects
LANDSCAPE ARCHITECTURE AWARD Fairbridge Children's Park by CLOUSTON Associates
Parks & Open Space
LANDSCAPE ARCHITECTURE AWARD St Leonards Park Master Plan and Upgrade by Gallagher Studio in collaboration with North Sydney Council
LANDSCAPE ARCHITECTURE AWARD Inglis Park by Arcadia Landscape Architecture
Community Contribution
LANDSCAPE ARCHITECTURE AWARD Erskineville Public School by LSA Design Landscape Architecture
Play Spaces
AWARD OF EXCELLENCE The Sales Ring Playground by Arcadia Landscape Architecture
Summerland Farm Park by Plummer & Smith
Health & Education
AWARD OF EXCELLENCE Landscape Westmead Hospital Redevelopment – Central Acute Services Building by Tract Consultants
LANDSCAPE ARCHITECTURE AWARD Dillwynia Correctional Centre Expansion by NBRS Architecture
LANDSCAPE ARCHITECTURE AWARD Susan Wakil Health Precinct by Arcadia Landscape Architecture
Tourism
AWARD OF EXCELLENCE Summerland Farm by Plummer & Smith
Small Projects
LANDSCAPE ARCHITECTURE AWARD Max Ruddock Reserve Playground by City of Parramatta
Civic Landscape
AWARD OF EXCELLENCE Notts Avenue Safety Upgrade by Tract Consultants
LANDSCAPE ARCHITECTURE AWARD The Canopy Precinct by Scott Carver and Arcadia Landscape Architecture
LANDSCAPE ARCHITECTURE AWARD Newmarket Dining by Arcadia Landscape Architecture and Bates Smart (master plan architects)
Urban Design
AWARD OF EXCELLENCE Batemans Bay Waterfront Master Plan and Activation Strategy by Inspiring Place
LANDSCAPE ARCHITECTURE AWARD Liverpool City Centre Public Domain Master Plan by Liverpool City Council
LANDSCAPE ARCHITECTURE AWARD Putney Hill Development by Environmental Partnership
Temporary Activation in response to the global pandemic
Public Space Ideas Competition 2020 by AECOM / Committee for Sydney / Department of Planning, Industry and Environment
Regional Achievement Awards
| | |
| --- | --- |
| Northern NSW | Summerland Farm by Plummer & Smith with DFJ Architects |
| Northern NSW | Pacific Highway Upgrade by Centre for Urban Design Transport for NSW and all of its Landscape Architecture Partners |
| Western NSW | Fairbridge Children's Park by CLOUSTON Associates |
| Southern NSW | Batemans Bay Waterfront Master Plan and Activation Strategy by Inspiring Place |
| Southern NSW | The Nan Tien Institute —Education & Cultural Centre by 360 Degrees Landscape Architects |
| Central Coast & Hunter | Raymond Terrace Public Domain Plan by Tract Consultants and Port Stephens Council |
| Central Coast & Hunter | University of Newcastle — COVID Pop ups by University of Newcastle School of Architecture & Built Environment |