Vo Trong Nghia Architects' touring Green Ladder
IMG LINK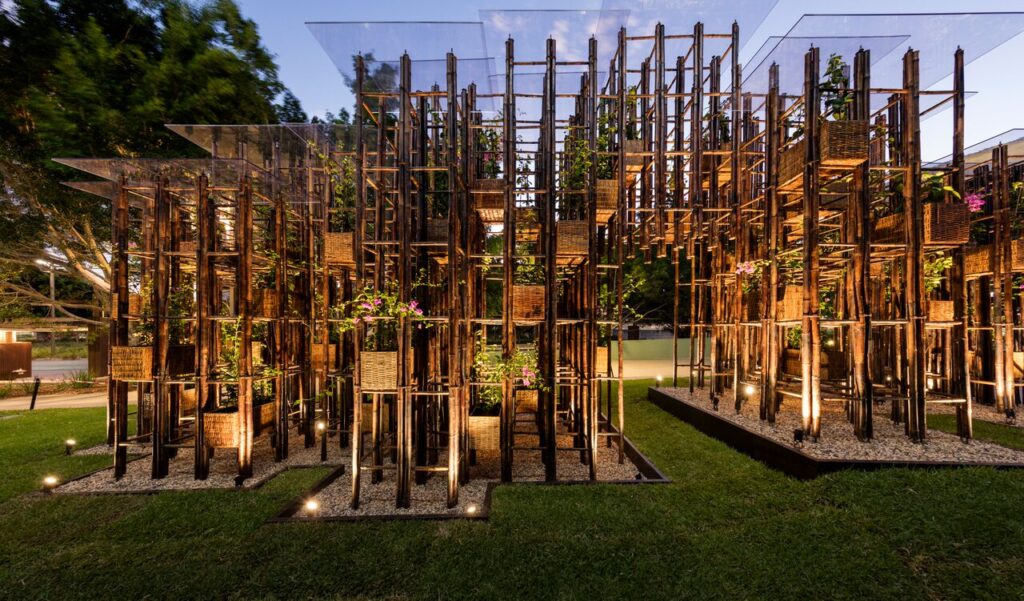 Brisbane will be the first Australian city to host Green Ladder, a touring architectural installation designed by world renowned Vietnamese Vo Trong Nghia Architects.
As a part of Sherman Contemporary Art Foundation's (SCAF) Fugitive Structures series, a gridded bamboo structure with a floating transparent ceiling was unveiled this week at the entrance to State Library of Queensland (SLQ) to mark the opening of the inaugural Asia Pacific Architecture Forum (APAF).
The pavilion will be on display for the duration of the two-week forum and will remain until May 15 before it moves to SCAF's courtyard garden in Sydney. Tailored specifically for the SLQ site, the pavilion is the fourth iteration of an annual architectural installation presented by SCAF.
Assistant Minister of State Assisting the Premier Mark Ryan said the impressive structure over the main entrance provided a fitting welcome to a gathering of some of the region's leading architects.
"Grafting a fresh, unusual structure onto the old, gives the entrance a new look that will attract the attention of visitors and increase interest in Brisbane's buildings," Mr Ryan said. "Expressive architecture like this is a luxury and we are fortunate to have it in Queensland first, so I encourage everyone to see this work before it moves on."
Acting State Librarian and CEO Sonia Cooper said SLQ was delighted to partner with SCAF to bring the work of Vo Trong Nghia Architects to a new Australian audience.
"It's a real coup for State Library through the Asia Pacific Design Library to host an installation of this calibre," Mrs Cooper said.
"Vo's integration of local materials and traditional skills with contemporary aesthetics and modern approaches aligns perfectly with the forum's exploration of how new world cities are responding to the challenges and opportunities of the Asian century through architecture."
"It's my hope the pavilion provides a talking point for our visitors and inspires robust discussion about architecture's role in the region."
Dr Gene Sherman, Executive Director of SCAF said the pavilion's design centres around two central pillars of Vo Trong Nghia's approach to architecture.
"The work demonstrates Vo's innovative use of bamboo, and his passion – and self imposed duty – to green the world's urban landscapes with plants and vegetation," Dr Sherman said.
"Vo pushes the limits of a strong, lightweight and highly sustainable traditional building material. He aims to increase bio-diversity and to reconnect city dwellers with the natural environment."
More details can be found on the SCAF website
Photo by Diana Snape