Radiant Pavilion 2019 contemporary jewellery and object biennial
IMG LINK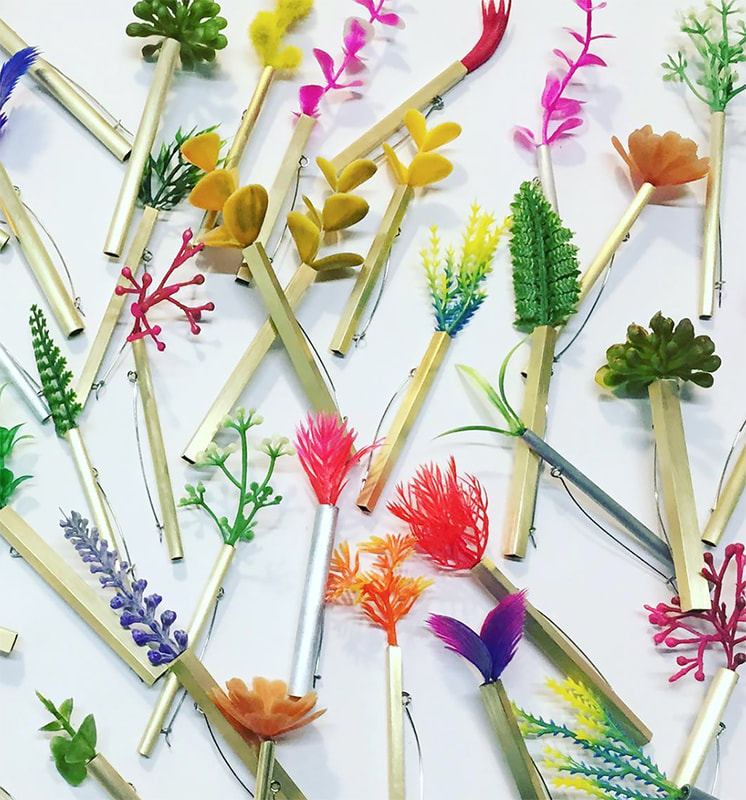 A celebration of contemporary jewellery and objects, Radiant Pavilion brings together local and international artists for an exciting and diverse range of events, 7–15 September 2019 in venues across Melbourne.
This is the biggest biennial of its kind in the Southern Hemisphere with 60+ events. It will bring together artists, theorists, collectors, wearers and appreciators from around the world for nine days of exhibitions, talks, performances, roving events and installations.
For the first time, Radiant Pavilion offered two exciting mentorships for early career practitioners. One for a writer to be mentored by Dutch writer, curator and art historian Liesbeth den Besten, culminating in a piece of writing to be published in Metalsmith magazine. The other for a curator to be mentored by Australian curator Kate Rhodes to develop and present an exhibition (Insistent.Gestures.) during Radiant Pavilion.
Melbourne has a thriving hub of contemporary jewellery makers. With a rich tradition and comprehensive offering, it is home to a diverse and generous community of artists, galleries and studios. 
"This year's festival is a wonderful cross-section of what's happening in the contemporary jewellery and object field. There's so much to be discovered and I'm thrilled that we are able to present this wonderful showcase in Melbourne."  Claire McArdle, co-Artistic Director.
"From the beginning, it's been really important to me that Radiant Pavilion is more than a festival. The additional programs we offer for artists, such as this year's curatorial and writing mentorships, mean we can support their creative and professional development in different and meaningful ways."  Chloë Powell, co-Artistic Director. 
Program highlights:
Insistent. Gestures. RMIT Gallery
Artists:  Kazumi Nagano (JP), Yong Joo Kim (KR), Chen Chun Tai (TW), Cyrus (Wai-Kuen) Tang (HK/AU), Yu Fang Chi (TW/AU)
Insistent. Gestures. brings together the work of five artists who live, work or were born in Asia to explore personal narratives, diasporic identity and the use of repetition.
The Indigenous Jewellery Project, Peanut Gallery
Artists: Emily Beckley, Angie Davis, Krystal Hurst, Jennifer Kemarre Martiniello, Lynette Lewis, Djuwakan #2 Marika, Munuy'nu Marika, Dindirrk Mununggurr, Marrnyula Mununggurr, Matilda Nona, Maryann Sebasio, Rosaline Tomasina, Mandy Y. Wanambi, Mothara Wirrpanda, Birrpunu Yunupingu, Marrawaymala Yunupingu
The first survey exhibition of The Indigenous Jewellery Project (IJP).  The IJP is a nation-wide Australian contemporary jewellery project working with Aboriginal and Torres Strait Islander owned art centres and artists across Australia. 
PELAGIC, Blindside
Artists: Liv Boyle, Sara Retallick, Jennifer Lavers
Seabirds and molluscs, whales and zooplankton, fish, flotsam, and plastics – all that inhabits the tidal zone, and upper surface of the open ocean.
Utilising material collected by Dr Lavers during her second Research Expedition to Henderson Island in the South Pacific – a remote, uninhabited atoll of the Pitcairn Islands archipelago – this unique collaboration will see the coming together of disciplines; sculpture, jewellery, sound, and science, exploring site-specific ecologies under pressure.
Artists Liv Boyle and Sara Retallick will respond to new research data such as accumulation patterns, weather conditions, beach topography and currents, questioning perceptions of remoteness and natural resilience.
meaning(less)ness II by Susan Cohn
Meaning(less)ness II is a performance talk about the meaning of objects in our lives.
Triggered by the 2016 Danish Jewellery Legislation requiring any assets over 10000 Kroner ($2000 AUS) including 'meaningless jewellery' to be confiscated by the Danish border authorities to subsidise the upkeep of people seeking asylum, the performance features jeweller, Susan Cohn, speaks to the meaning of jewellery.
Following her successful performance tour in Denmark during 2018, meaning(less)ness II uses Cohn's Danish experience to reconfigure the themes in this work as a way to open a conversation with Australian audiences.
Understory by Cara Johnson, Domain House, Royal Botanical Gardens
A solo exhibition that draws on complex, and layered narratives that connect people and plants, shown within Melbourne's Royal Botanic Gardens. 
Johnson's ongoing research into the way people manage plants, and the landscape, has been explored through form, material and making processes, with reference to the Victorian Rare and Threatened Species collection, which is situated within the Royal Botanic Gardens.
Conjuring Poiesis, Albert Street Gallery
Artists:  Nicholas Bastin and Katherine Bowman
Exhibiting together, both artists explore mythology, considering an idiosyncratic voice of contemporary fiction in jewellery object and art making.
Earthbound, Lightbound, Rubicon ARI
Artists:  Inari Kiuru (FI/AU), Aurelia Yeomans, Michaela Pegum, Lauralai Wilson
Earthbound, Lightbound explores our connection with Earth and its atmospheres through the alchemical mix of the tangible, the sensed and the imagined.
Ground by Lindy McSwan, Nord
Ground is a selection of works from McSwan current practice led research exploring the materiality of steel from its very origins.
Hang on to a dream by Lucy Sarneel (NL), Gallery Funaki
Lucy Sarneel is one of The Netherlands most renowned contemporary jewellers, with a career spanning over 30 years. In this intimate solo exhibition, she presents new works dealing with the rich seams inspiration that have long informed her practice; personal identity, Dutch cultural history and the magic collision of elements in the everyday.
Makin' it, Presgrave Place
Artists:  Michelle Cangiano, Rhys Turner, Anna Davern, Vicki Mason, Mark Newbound
…Makin' it is a series of observational documentaries by Mark Newbound, running on a loop and projected onto a Melbourne laneway wall
Each documentary depicts a local jewellery artist making a piece from beginning to end. No words are exchanged, the only sounds are those produced by the making process.
Radiant Pavilion co-directors Claire McArdle and Chloë Powell & all artists are available for interview.
Radiant Pavilion at venues across Melbourne, 7-15 September 2019. www.radiantpavilion.com.au