Leading urban planner's pick of five top Australian mixed-use projects beneficial to communities
IMG LINK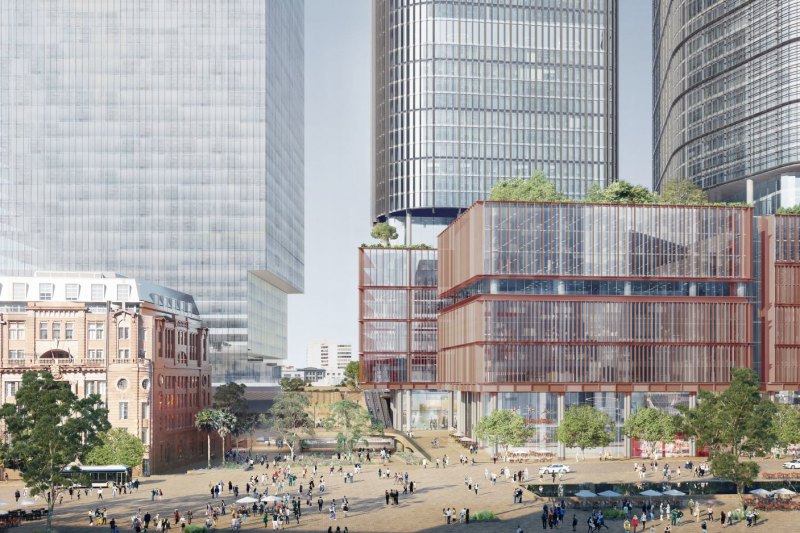 State and local governments are leading an array of planning projects across each state to improve our communities, meet emissions targets and kickstart our economic recovery. A leading urban planner highlights several of the most beneficial projects in each major city to the lifestyle, health and social connectivity of local communities – and how they can become a model for future urban development.
Mike Day is Co-founder and Director of award-winning Australian urban planning and design practice Hatch RobertsDay (robertsday.com.au) and a Fellow of the Planning Institute of Australia. He says: "Given that approximately 40 per cent of the population doesn't have access to a car, such as young children, teenagers and many of the elderly, one of the planning and design factors most beneficial to a community, is the delivery of compact, connected, mixed-use neighbourhoods providing residents with independence of movement, without having to use a car. Sustainable transport modes – such transit, e-bikes and scooters, and having essential amenities within walking distance –  improves social cohesion and health."
"We are seeing a shift away from car-centric communities as transit and micro-mobility becomes more convenient and accessible – characteristics the most progressive government-led projects have in common. 'Affordable living' is also now the catch-cry, rather than 'affordable housing', as the cost of private car usage in the growth areas of our capital cities now often exceeds the cost of housing."
Mike has highlighted a project in each state that applies these urban planning principles, which could be a model for future urban development ventures.
Nominated Sydney project: Central Precinct Urban Renewal Program. The Government's planned transformation of 24 hectares of land in and around Central Station into a mixed-use, business, community, global transport and technology hub will be a vital part of the expansion of Sydney's CBD economy.
Mike, who as a board member of the Subiaco and East Perth Redevelopment Authorities, and has extensive experience in similar urban renewal projects, says, "The Central Precinct embraces the fundamental planning and design principles of social connectivity through well-designed civic and public open spaces and the designation of walking and cycling as the privileged or preferred modes of transport. These principles are now essential in all urban planning projects to ensure we are adhering to the UN Sustainable Development Goals. The new layout of the urban quarter will be a vibrant hub for the surrounding neighbourhoods of Ultimo, Chippendale and Glebe, and will effectively stitch these neighbourhoods together with Surry Hills and Redfern."
Nominated Melbourne project: Little Streets. Flinders Lane, and Little Collins, Little Bourke and Little Lonsdale streets are being transformed to incorporate wider, shared walking and cycling pathways, greener and more aesthetic streetscapes, and lower speed limits.
Mike says: "The planners and designers behind this transformation understand the importance of integrated and variegated streets, which has been one of the great attributes of Melbourne. Our forebears conceived an urban pattern that would evolve and moult over time, laying out Melbourne's central city and cherished and timeless inner neighbourhoods with an interconnected network of streets, lanes and arcades. This urban form should be adopted in our metropolitan growth areas. In stark contrast, Mike says the emerging suburbs comprise single and separate land uses, such as car-based shopping centres, business parks and detached residential housing areas, with limited walking and cycling paths and transit, which compel resident to drive everywhere. "We should, instead, be emulating Melbourne's 'little streets' in our suburbs."
Nominated Brisbane project: Cross River Rail, with Woolloongabba Station Precinct and Brisbane Metro integration. The 10.2-kilometre Cross River Rail line will run from Dutton Park on the south of the Brisbane River to Bowen Hills on the river's north. It will incorporate almost six kilometres of tunnels under the river and CBD, a new mixed-use Wolloongabba Station precinct near Dutton Park, and two interchanges at Boggo Road and Roma Street that will be shared with the new Brisbane Metro.
Mike says: "These connected projects will be the biggest contribution to the transformation of Brisbane city. It will help reduce the city's reliance on cars – a key goal that all state governments are slowly embracing but which can't be realised without fast, reliable public transport accessible to all mixed-use urban centres. Not only will the Cross River Rail get commuters into the Brisbane centre faster and more easily, it will free up land for high-quality living environments in the city. With employment densities in Brisbane city unlikely to return to 2019 levels, due to the emergence of more distributed workplaces across the metropolitan region, there is now an opportunity for the urban development industry and governments to foster the introduction of cultural and residential projects within the city centre to create a more liveable city."
Nominated Perth project: The Metronet. The Metronet is a major rail and transit-oriented development project that will create up to 18 new transit hubs along approximately 72 kilometres of new rail in Perth.
Mike says: "Our expectation is the Metronet will lead to the creation of compact mixed-use station hubs within the walkable catchments around each new station, resulting in vibrant mixed-use urban neighbourhoods. The combination of reliable public transport and compact, connected neighbourhoods will reduce the need for personal car ownership, greatly assisting the city to lower emissions and create more affordable and healthy neighbourhoods. Car ownership is now exceeding the cost of housing in the growth areas of our cities. The RACV and RACQ established that a medium-sized car costs more than $10 000 a year to own and maintain. At current interest rates this is equivalent to servicing a $300 000 component of a home loan.[1]"
Nominated Adelaide project: City bikeways. The City of Adelaide and the South Australian State Government are investing $12 million in separated bikeways and shared pedestrian paths through the city and park lands.
Mike says: "The separation of vehicular movement from cycleways and pedestrian paths has been successfully introduced throughout Europe during the COVID-19 pandemic. In a similar manner to the European initiative, the Adelaide bikeways and pedestrian paths will embellish and enhance the city's public spaces, giving communities a sense of identity and a soul. Adelaide's dedicated pathways will foster physical activity and social cohesion, and improve the wellness of the community. Adelaide's property market is also likely to benefit: where there is pedestrian friendliness, there are also major benefits to the property market, as property buyers seeking more walkable urban settings. It is anticipated that the Adelaide pedestrian and bike paths will create a wonderful precedent for Australia's major cities to emulate, as social restrictions and more distributed workplaces bring our suburban neighbourhoods to life."