Using external sun shading in passive design
IMG LINK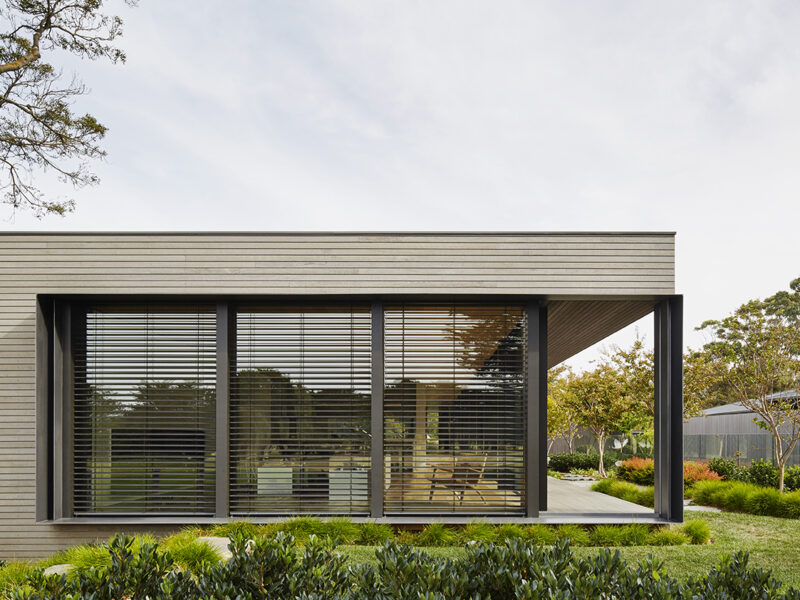 What is passive design?
Passive design is the use of design techniques to modulate interior comfort using zero or minimal power. It seeks to avoid the use of mechanical services such as air conditioning.
Designing for passive temperature control makes good sense. Buildings that rely on natural principles are cheaper to run and the reduced energy requirements contribute to sustainability, but a very tangible outcome of passive design is simply greater comfort and this is where operable sun shading plays a critical role.
In any enclosed space and particularly in buildings constructed to the modern building code, windows are the highest area of heat gain. Windows introduce daylight and maintain an important psychological connection with nature, but thermally, windows represent the weakest point of the building fabric. Heat enters through direct radiation and conduction and becomes trapped in the building. This is the so-called greenhouse effect where solar energy incident on glazing heats up objects in the interior which themselves become radiators of long wave infrared radiation. To prevent overheating, solar radiation must be managed before it reaches the glass.
How can external sun shading help with temperature control?
In the temperate southern part of Australia, eaves on the north will shade summer sun and allow winter sun, but operable external shading has the added advantage of adapting to daily variations in climate.
On the east and west facades, the lower sun altitude through the morning and afternoon creates a high heat load on unprotected glazing because of the angle of incidence of the sun. Any type of fixed shading deals only with a specific range of sun movement and causes undesirable room darkening when sun levels are lower. Operable sun shading can adjust to counter the full range of movement of the sun and provide the perfect balance of heat reduction and daylight regardless of the weather conditions. To get the best results with operable sun shading, choose a motorised product appropriate to the architecture and site coupled with an intelligent control system.
Zip-guided blinds
External fabric blinds are available in a range of light filtering textiles that absorb and reflect solar radiation. With ZIP guidance, the fabric remains extremely stable in windy conditions and can even be installed at balcony or pergola edge.
External venetian blinds
External venetian blinds, such as the German-engineered WAREMA range, offer the most effective form of sun shading because the combination of tilting slats and retractability provide full sun control without compromising the quality of daylight entering the building. In a north orientation minor tilting deflects the direct sun but reflected light passes through to the interior. On the east and west (and the south around the summer solstice) the slats can tilt to accommodate the greater range of movement of the sun.
Both ZIP blinds and external venetians can be integrated at design stage to neatly retract into the building envelope.
Controls
To achieve the best interior comfort external shading should be operated with automated blind controls. The WAREMA Climatronic system packs the features of large commercial systems into a convenient residential format and includes sun tracking capability, solar load, daylight, temperature and wind settings. In a well configured system temperature reductions of 10 degrees between outside and inside are common. Coupled with natural ventilation and other principles of good passive design external shading can provide comfortable living throughout the year.
Shade Factor are the specialists when it comes to sun shading solutions and the Australasian agent for WAREMA. Their extensive product offering is highly engineered and manufactured in Germany, and their product designs have been internationally recognised for innovation. Speak with Shade Factor's expert team to see how they can assist in optimising your interior comfort.