Explore Yolŋu Culture in a Four-Part Video Series, 'Bark Ladies: Eleven Artists From Yirrkala'
IMG LINK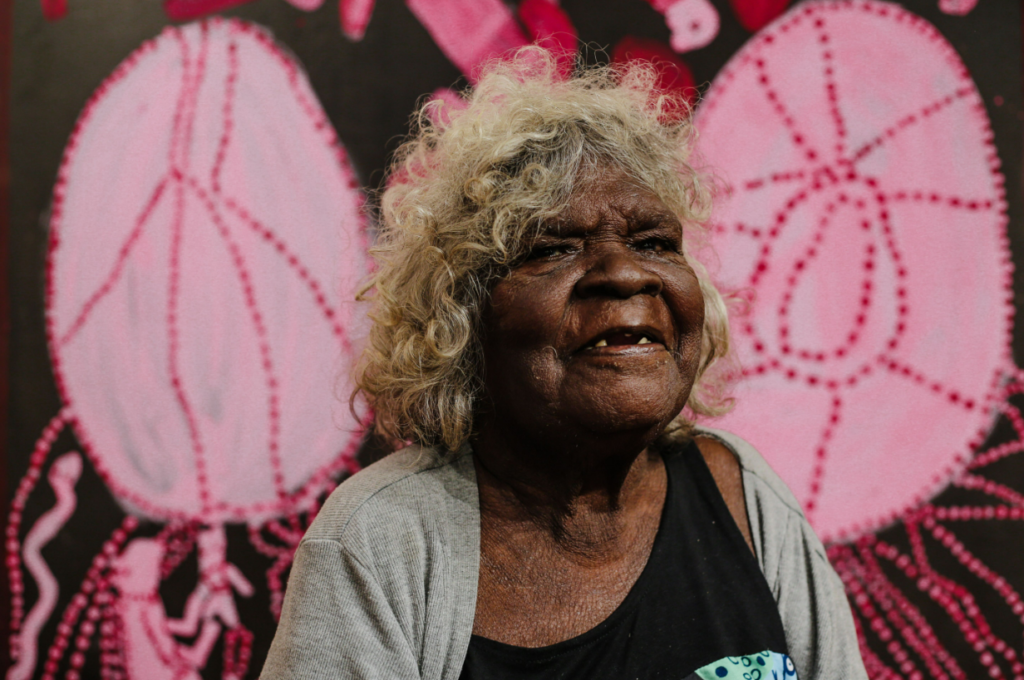 National Gallery of Victoria (NGV) presents Bark Ladies: Eleven Artists From Yirrkala, a four-part video series celebrating some of the extraordinary artists working out of the Yolŋu owned and operated art centre, Buku Larrngay Mulka, situated in North East Arnhem Land.
The series, running alongside the summer exhibition Bark Ladies: Eleven Artists from Yirrkala, will explore Yolŋu art, culture and tradition and share the voices of living artists including Dhuwarrwarr Marika, Naminapu Maymuru-White, Djerrkngu Yunupiŋu, Noŋgirrŋa Marawili and Dhambit Munuŋgurr.
Episode one | EXHIBITION INTRODUCTION
In the first episode of the series, viewers hear from artists Naminapu Maymuru-White and Dhambit Munuŋgurr talk about learning to paint from their family members and their passion to continue to paint today. The episode also features Yolŋu rapper, dancer and 2019 Young Australian of the Year Danzal Baker OAM aka Baker Boy, who grew up in the remote communities of Milingimbi and Maningrida in North-East Arnhem Land and has fused Yolŋu Matha, the language of Yolŋu people, with English in his music and rapping. Yolŋu actress and model Magnolia Maymuru, who grew up in Yirrkala also shares her deep connection to Yolŋu culture and tradition, and the importance of being raised by the strong Yolŋu women in Yirrkala.
Episode two | YOLŊU WOMEN AND BARK PAINTING
The series goes on to explore the ground-breaking way that Yolŋu women have taken to bark painting, an artform traditionally practised by Yolŋu men. Before the 1980s no Yolŋu women painted sacred themes on bark or larrakitj in their own right; however, in recent decades women artists have taken to these media, becoming renowned both nationally and internationally for daring and inventive works that challenge tradition. In this episode senior artist and Rirratjiŋu Elder Dhuwarrwarr Marika, the first Yolŋu woman at Buku to paint on bark shares her story about receiving permission from her community to paint, which has paved the way for other Yolŋu women and artists at Buku to take up the art form. Naminapu Maymuru-White also shares the story of her works which depict Milŋiyawuy (the Milky Way), also known as the River of Stars, which she creates with the labour-intensive painting method of skewer stick and Marwat (brush made of fine hairs) resulting in intricate and instantly recognisable works. Viewers will also see the large-scale floor-based installation of Maymuru-White's work Riŋgitjmi gapu, 2021 currently on display at the Gallery in Federation Court.
Episode three | CONTEMPORARY INTERPRETATIONS IN BARK PAINTINGS
In this episode viewers discover how the eleven women included in the exhibition have pushed the boundaries of what Yolŋu art is, seen especially in the contemporary interpretations by Noŋgirrŋa Marawili and Dhambit Munuŋgurr. These artists have taken to new media, created their own distinct visual languages and pioneered the use of synthetic paint and ink in Yolŋu art.
Episode 4 | THE GECKO AND THE MERMAID: DJERRKŊU YUNUPIŊU AND HER SISTER
Coinciding with Bark Ladies: Eleven Artists from Yirrkala, NGV Kids presents an all-ages exhibition, The Gecko and the Mermaid: Djerrkŋu Yunupiŋu and her sister, that celebrates the work of two pioneering artists and sisters, Ms N Yunupingu and Eunice Djerrkŋu Yunupingu. In this episode, viewers hear from Eunice Djerrkŋu Yunupiŋu who shares the story of her conception, where her unborn spirit visited her father in the form of a mermaid. Viewers also hear from award-winning Yolŋu artist, author and filmmaker Siena Mayutu Wurmarri Stubbs, who is the granddaughter of these Yunupiŋu sisters.