Free Expert Window Advice
IMG LINK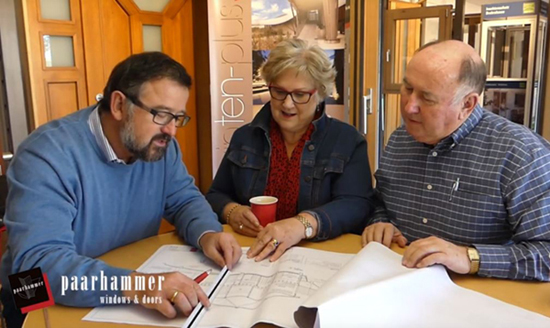 Not just suppliers of beautiful windows and doors, with over 30 years of experience manufacturing windows and doors in Australia you can turn to Paarhammer for expert advice and innovative solutions for your build. Visit the factory and showroom in Ballan to discuss your project and see what Paarhammer can do for you.
With a Masters in cabinetmaking and joinery, and over 40 years' experience Tony is a knowledgeable window professional. He has also served on the board of the Australian Windows Association (AWA) and is now on the board of the Australian Fenestration Rating Council (AFRC).
In 1990 Tony and his wife started their window manufacturing company, and Paarhammer energy efficient products are now in high demand Australia-wide.
Building or renovating is a journey and should be worry-free with the right professionals. You choose your architect or designer, and a builder, but you may also wish to make up your own mind on some of the key materials used for your home.
The building envelope is crucial – not just for looks – as it represents the bulk of your budget and is not easy to change or upgrade later. A large part of ensuring energy efficiency and comfort are windows and doors. High performance products represent a sizeable portion of your buildings' budget and it is advisable to research and see them for yourself to make the best decision.
With five ranges available, visiting Paarhammer can ensure you receive the right products for your needs, such as high energy efficiency, sound protection, low maintenance or bushfire safety. Little tips like using fixed windows where they are not needed to open for cross ventilation can save you money during the build. Having windows and doors with very low air infiltration and low U-values will save you money on heating and cooling costs once you are living in your home.
Include a visit to Paarhammer, or a video appointment, during your design process. Bring your plans, and see what we can offer. Call on 03 5368 1999 to make an appointment with Tony Paarhammer and take a tour of our showroom and factory.
Watch our Client Experience Video for how your visit could be – see below.
For all your window and door enquiries, please contact Paarhammer on 03 5368 1999 or visit www.paarhammer.com.au
Green Credentials
Paarhammer windows & doors are double or triple glazed for the highest energy efficiency, and all timber finishes are low VOC (Volatile Organic Compound). Deeply committed to a sustainable future, Paarhammer only uses AFS and PEFC timbers and we have been FSC® (Forest Stewardship Council®) Chain-of-Custody certified since 2008. Our products are made in sustainable manufacturing facilities powered by the sun, with light, water, and waste management systems in use.